3 tips to prepare and pin your Code Week activity in record time! Copy
Publication date: October 5, 2022
Code Week is around the corner with a wide variety of activities planned, including featured activities and unplugged coding activities, which don't require electronic devices, making them accessible to all schools regardless of the equipment they have available. Don't forget to register your activities on the Code Week site. Think you're no longer on time? Anyone and everyone can pin a Code Week activity in record time! Below you can find some top tips that will help you make your event as successful as possible, even if you start today.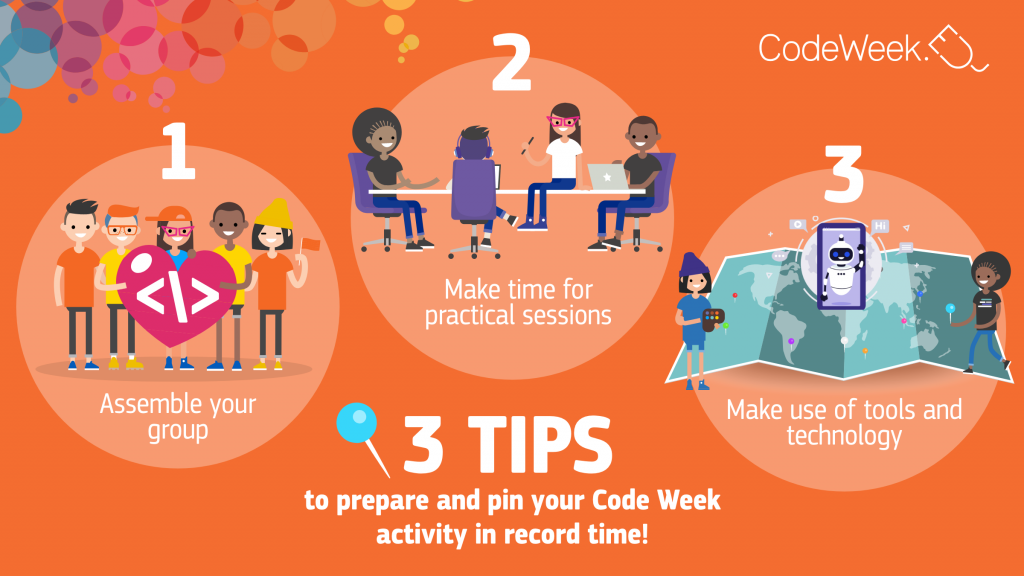 We have made available some tutorials and trainings and easy to use coding challenges in 29 languages to help you organise Code Week activities where young people learn coding and computational thinking. In addition to these resources, you should bear the following tips in mind when organising your event.
1. Assemble your group
The first thing you need to do when organising a Code Week activity is to get a group together that is willing to learn about coding. The group can consist of your pupils, friends, your children, adult colleagues, parents or grandparents. Remember, two is a group already! Then you will need a teacher or coach familiar with coding (but remember, they don't have to be experts, just willing!) and a venue to use as a classroom.
2. Make time for practical sessions
The format of your coding activity is up to you, but we recommend that you include some practical, hands-on time, where participants can create on their own and tinker with some hardware (or replicas on paper). This will allow them to become more comfortable with the hardware and to learn from their own mistakes. You should also encourage the participants to present what they have created at the end of your activity.
3. Make use of tools and technology
Make use of the tools and technologies appropriate to your target group. We recommend using freely available open-source material. You can browse our repository to find the perfect resource to start your coding journey. In the repository, you can filter your search by type of resource, skill level, programming language, category, and language. Moreover, if you have limited space available at your venue, you can use online tools such as Google forms and Eventbrite to register participants.
Once you have organised your activity, remember to pin it on the Code Week map! Make sure you spread the word about your event – you can promote your activity on social media using the #CodeWeek hashtag. You can also share on the EU Code Week Teacher's group and on Twitter (@CodeWeekEU) – we are all interested in hearing about the activities that you organise as part of EU Code Week 2022.