5 platforms to get kids coding at home
Publication date: July 20, 2023
Coding skills are becoming increasingly essential for success in the future job market. As parents and educators, it's crucial to provide children with opportunities to learn and engage with coding from an early age. There are numerous online resources available to make coding education accessible and enjoyable for kids.
In line with the goals of EU Code Week, these platforms aim to ignite children's passion for coding and equip them with the skills they need for the future. Here are five platforms that can get kids coding at home.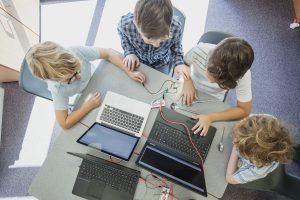 Code Spark
Code Spark is an excellent platform that enables kids to create their own games in just one week! Through Code Spark classes and its award-winning app, children can learn to code while boosting creativity, problem-solving, and communication skills. The platform offers a user-friendly interface and engaging activities that make coding fun and exciting for young learners.

CodeMonkey
CodeMonkey takes a straightforward approach to teaching real text-based code in a manner that even 8-year-olds can understand. This web-based learning platform offers a variety of computer programming courses and tools to bridge the gap between aspiring coders and experts. In addition, CodeMonkey's courses are game-like and intuitive, allowing children to dive into text-based programming without any prior coding experience.

Scratch
Scratch is a popular and widely-used platform for coding education. It provides a visual programming environment where kids can create interactive stories, games, and animations. With Scratch, children can learn coding concepts by dragging and dropping code blocks, making it an excellent choice for beginners. On the top of that, the platform also has a supportive online community, allowing kids to share their projects and get inspired by others. You can learn more about Scratch on our EU Code Week webinar on Computer-Generated Poetry with Scratch.

Kodable
Kodable is a kid-friendly coding platform designed to introduce children aged 4-10 to programming concepts.  Therefore, with its visually appealing interface and engaging characters, Kodable makes coding accessible and enjoyable for young learners. Through interactive games and puzzles, kids can learn fundamental coding concepts such as sequencing, loops, and conditionals. Kodable offers a structured curriculum that gradually progresses in difficulty, ensuring a seamless learning experience for children as they advance their coding skills. 

LEGO Education SPIKE Prime
LEGO Education SPIKE Prime combines the excitement of robotics with coding education. This interactive platform allows kids to build and programme their own robots using LEGO bricks and a user-friendly coding interface. With SPIKE Prime, children can develop critical thinking, problem-solving, and collaboration skills while engaging in hands-on learning.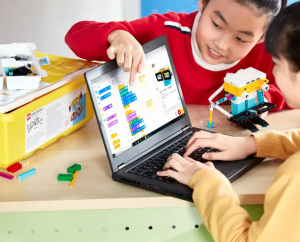 With these online coding platforms, parents and educators have a range of resources to engage children in remote coding learning. Whether it's through creating games, text-based programming, visual coding, or robotics, these platforms provide opportunities for kids to develop their coding skills while having fun. Let's use them to inspire the next generation of coders during EU Code Week and beyond.