A board game to engage more girls in coding
Publication date: October 19, 2022
By Alexandros Kofteros, Leading Teacher in Cyprus 
Research has shown that girls surpass boys when it comes to reading and writing (Reardon et al, 2018). However, when it comes to science-related subjects, children tend to identify them as male-dominated, which has a profound impact when selecting subjects for a university degree (Riegle-Crumb et al, 2021). In particular, computer science and engineering have the lowest percentage of women (Funk & Parker, 2018). The main reason why girls tend to lose interest in these subjects is the misconception that no women role models exist and these subjects are mainly for men (Renkin & Martin, 2018). 
A thorough study of language textbooks in Greek (and Greek Cypriot) schools has shown that there is almost no mention of women scientists, except for a single reference on a single page in the sixth grade.  
As teachers, our job is to teach the whole class and encourage our students to follow their passion and not to get disappointed based on misconceptions. What started as a discussion with my students back in 2018, developed into a board game that plays more like Dungeons & Dragons than Monopoly (for the hard-core Advanced Dungeons & Dragons fans, this reference is only to stress a point). The main goal was to create an engaging game that could be used in the classroom, in a fun way, and allow students, meaning all students, to learn more about women who have had a significant impact on computer science. Of course, there are many board games and books already out there that do an amazing job at this. Nevertheless, we needed something with a focus on computer science to encourage more girls to get active in coding.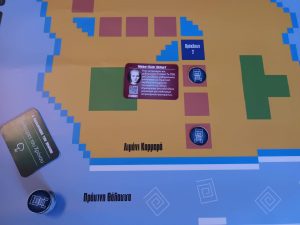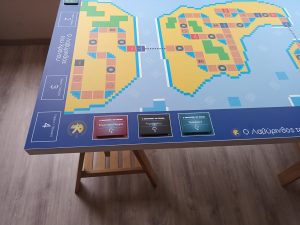 The main premise of the game is that, in the near future, an advanced AI gets corrupted and 'breaks' the space-time continuum. Don't worry, Time Agents are at hand to restore the timeline (a good excuse to include in the same game women who lived almost 2,000 years apart). We have nine player cards (the game is played by up to four players), both male, female and even some non-binary agents, with their own STREAM (science, technology, reading, engineering, arts, mathematics) attributes. Students select their agent (they are evenly matched) and start their journey. They face challenges as they journey to confront the AI. The first challenge is crossing the sea. It is calm, but there are rumours of whirlwinds if a ship goes astray. So, how do we navigate? Hypatia, an ancient philosopher, mathematician and inventor will give us her astrolabe, which we can use to navigate across the sea. Along the way there are nine challenges, and each one requires that we locate on the board an important (female) character that will help us. Bonus: to cross the ocean at some point of our game, we meet Amelia Earhart. Not exactly a scientist, but kudos to one of the most important proponents of women's rights and a pioneer aviator. During our journey we also meet Katherine Johnson, Margaret Hamilton, Grace Hopper, Sophie Wilson*, Hedy Lamarr and others.  
It goes without saying that this is not a commercial product, but something that is going to be given out for free when it is finalised. It is currently being tested as part of the activities of the Cyprus Computer Museum that I have co-founded.  
I expect by December to have a finalised version with added digital content and, in early January, will translate the game into English and share with my fellow teachers. 
References: 
ΑΑUW (2010). Why so few? Women in Science, Technology, Engineering and Mathematics. Hill, C., Corbett, C., Rose, A. Washington, DC: Author. 
Funk, C., & Parker, K. (2018). Women and men in STEM often at odds over workplace equity. 
Reardon, S.F., Fahle, E.M., Kalogrides, D., Podolsky, A., & Zárate, R.C. (2018). Gender Achievement Gaps in U.S. School Districts. 
Reinking, Anni & Martin, Barbara. (2018). The gender gap in STEM fields: Theories, movements, and ideas to engage girls in STEM. Journal of New Approaches in Educational Research. 7. 148-153. 10.7821/naer.2018.7.271. 
Riegle-Crumb C, Peng M. Examining High School Students' Gendered Beliefs about Math: Predictors and Implications for Choice of STEM College Majors. Sociology of Education. 2021;94(3):227-248. 
Steele, J (2006). Children's Gender Stereotypes About Math: The Role of Stereotype Stratification. Journal of Applied Social Psychology.