Ally the Code Week Robot's Mission: Getting Kids Coding!
Publication date: October 14, 2023
Hello there, young coders and curious minds! I'm Ally, your friendly Code Week robot, and I'm on a mission to inspire all kids to embark on a coding adventure. In today's blog post, I'm here to tell you all about the exciting resources available on the EU Code Week website that will help you discover the amazing world of coding.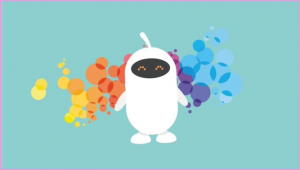 The EU Code Week website is your one-stop destination for all things coding. Whether you're a student, teacher, parent, or just someone eager to learn, there's something for everyone here. Let's dive into some of the fantastic resources that can spark your coding journey! 
Coding@Home – Your Gateway to Fun Learning
Imagine coding being as easy as playing your favorite video game. Well, with Coding@Home, it can be! This section of the EU Code Week website is packed with short videos, DIY materials, puzzles, games, and coding challenges that you can enjoy both at home and at school. It's the perfect way to bring coding into your everyday life, making it not just educational but also loads of fun! There's even a game called Catch the Robot. Ha! I find it hilarious that humans think they have a chance against a robot!! 
Challenges Galore
Do you love a good challenge? The Challenges section on our website is tailor-made for you. Whether you want to embark on a coding adventure solo, with friends, or in the classroom, we have exciting coding activities waiting for you. These challenges are designed to stimulate your creativity, problem-solving skills, and teamwork. Are you up for the challenge? 
Resources for Teachers
Calling all teachers! We've got you covered too. We understand that inspiring young minds to code is a noble mission, and that's why we provide resources like podcasts, hackathons, learning opportunities, teaching resources, presentations and toolkits and much more that you can use to make coding engaging and accessible for your students. Let's make coding an integral part of your classroom experience! 
At EU Code Week, we believe that coding is more than just lines of text on a screen; it's a gateway to creativity, problem– solving, and endless possibilities – and we're here to guide you every step of the way. So, whether you're a beginner or an experienced coder, there's always something new to learn and explore on our website. Coding is for everyone, and it's a skill that will open doors to exciting careers and adventures. 
Start your coding journey today by visiting the EU Code Week website and exploring the incredible resources we have waiting for you. Together, we can shape a future where coding is not just a skill but a way of thinking and creating. 
Happy coding, and remember, I'm here to help you on your coding adventure!  
Stay curious, 
Ally