Canary Islands Code Week
Publication date: April 5, 2022
The Canary Islands Code Week is an initiative organised by the Educational Technology Area, a Canarian institution responsible for coordinating the endowments and uses of Information and Communications Technology (hereinafter ICT) in public educational centres in the Autonomous Community of the Canary Islands. For the past 3 years, this event has been organised in December, joining the European Code Week. 

In order to carry out this event in the archipelago, the Canarian Educational Technology Area holds a preliminary coordination meeting with the 27 ICT Advisors from the Teacher Training Centres; who are leaders and role models in the use of ICT and also provide support to the public educational centres of their area. At this meeting, the activities to be proposed to the educational centres according to the different levels are agreed upon.
This is followed by a meeting at the Teacher Training Centres to share the proposals with the ICT Coordinators of each area , who are teachers who promote the use of ICT at their public educational centres. Subsequently, each ICT coordinator promotes actions at their educational centre to participate in the event. More than 600 people attend these meetings.
The activities proposed for this event comprise a wide range of topics, types and audiences and can be carried out by any school, regardless of its technological equipment and educational level. They can range from unplugged activities, without using any technological devices, to coding activities with mobile devices, computers and robotics.
All proposals are published and made publicly available each school year on the website https://www3.gobiernodecanarias.org/medusa/ecoescuela/educarobot/ so that they are accessible to all teachers, even if they did not attend the event.
During the event, the ICT coordinator at each centre keeps a record of the number of students and groups actively participating. Additionally, they may also upload images to the event website as proof of participation.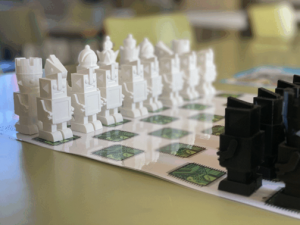 This school year, 2021-2022, the participation has reached 14658 students from 121 educational centres in the Canary Islands.
In the following map you can see the participation by islands: