Celebrating EU Code Week 2023: Kick-off Event Highlights
Publication date: October 12, 2023
EU Code Week 2023 officially kicked off on 9 October with an online launch event that brought together coding enthusiasts, educators, policymakers, and students from across Europe. This event was a celebration of digital literacy and a reminder of the importance of coding in the modern world. And, for those who missed it, you can still catch the event on the EU Code Week Facebook page and YouTube channel.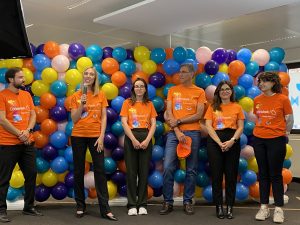 Here's a brief overview of the event's agenda and some of the key highlights: 
The event began with a warm welcome from Tommaso Dalla Vecchia, Development and Advocacy Manager at EUN, who highlighted the significance of EU Code Week as a grassroots initiative to promote coding and digital literacy. Viewers from various platforms shared their enthusiasm and greetings, creating a sense of unity among participants.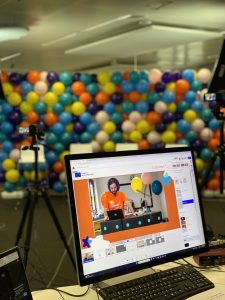 European Commission's Opening Address
Renate Nikolay, Deputy Director-General for Communications Networks, Content, and Technology at the European Commission, emphasized the European Commission's support for EU Code Week. She also discussed the importance of digital skills and how EU Code Week aligns with the EU's ambitious targets for digital literacy. 
'Scratch Journey' – Message from Mitch Resnick
During the event, Mitch Resnick, co-creator of Scratch and LEGO Papert Professor of Learning Research at the MIT Media Lab, sent a special message acknowledging the impact of EU Code Week and its role in inspiring young learners. 
Roundtable: "Empowering Youth for the Digital Age"
Later, a discussion panel featuring Stefanie Hille, Anusca Ferrari, and Marc Durando from the European Commission and European Schoolnet explored the EU's priorities for digital skills and how EU Code Week contributes to achieving these goals.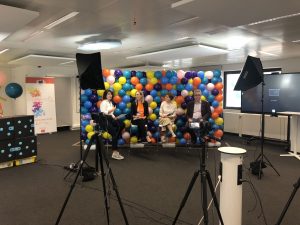 Integrating Coding into the Curriculum: The Case of Spain
Over the event, José Luis Fernández from the Spanish Ministry of Education shared insights into how Spain has successfully integrated coding into its curriculum. Moreover, he also highlighted the importance of teaching coding from an early age. 
Students' Voices from EU Code Week Hackathons
Winners from EU Code Week hackathons shared their projects and experiences, showcasing the creativity and innovation of young coders. 
Virtual School Trips
Participants took virtual trips to schools in Germany, Croatia, Poland and Serbia, allowing a glimpse into how coding is taught and embraced in different European countries. 
Attracting and Engaging Girls and Women in EU Code Week
Monika Kapráliková and Madhumalti Sharma, both EU Code Week Ambassadors, discussed strategies for increasing female participation in coding and tech-related activities. 
What is there for Teachers in EU Code Week 2023?
For example, educators were encouraged to explore resources and initiatives available during EU Code Week, including the EU Code Week MOOC.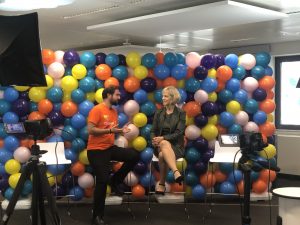 Code with Us: Try Out Playful Activities
Viewers were invited to participate in a coding challenge and share their results, promoting hands-on learning. 
Your EU Code Week Digest
A presentation by the organisers offered insights into the activities and challenges planned for EU Code Week 2023. 
As EU Code Week 2023 unfolds, it's clear that coding and digital literacy are essential skills for the digital age. Certainly, the kick-off event served as a powerful reminder of the importance of empowering individuals, especially youth, with the skills needed to navigate and succeed in the modern world. Undoubtedly, with events like this, EU Code Week continues to inspire and educate people of all ages across Europe and beyond, fostering a digital-savvy generation ready to tackle the challenges of tomorrow.