Code United, a coding camp for kids
Publication date: April 7, 2022
Today, we happily present to you a unique project sharing the same objective and vision as EU Code Week in bringing coding and digital literacy to everybody in a fun and engaging way: Code United, a coding camp for kids.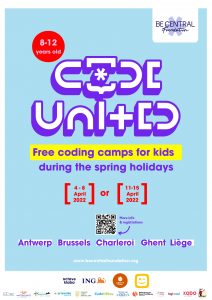 The initiative developed by the BeCentral Foundation started just a few days ago, on Monday 4th. Held in all 3 regions' in Belgium, Code United camps combine code, theatre and improvisation. They are designed to help 8-12 year old children from all social and economic backgrounds develop essential skills for the future and accompany them in learning how to express themselves both offline and online. Participation is free and it's still possible to sign your kids up for the second week of camp.
As digitalization accelerates and impacts every aspect of our lives, people who lack access to technology can quickly find themselves socially and professionally marginalized. The purpose of the initiative, and of the BeCentral Foundation behind, is to reduce the digital divide by offering everyone the possibility to benefit from the opportunities of the digital age.
The Code United camps will support more than 500 kids across 5 different cities in the country, aiming to give every future citizen, regardless of age, gender or origin, the means to become a digital player. Concretely, the children will have the opportunity to discover digital technology as producers and not as consumers, to learn, go further, and maybe one day pursue a career in this field.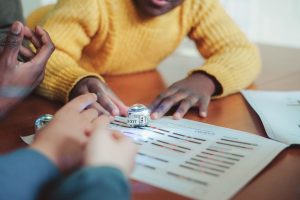 Are you interested and would like to register your kid too? There are still some places left!
Held over two weeks (from the 4th to the 8th and 11th to the 15th of April), it is still possible to secure a place during the second week of camp.
Head to the BeCentral Foundation's website to register or sign up to the Foundation's newsletter to be the first one to know when the next edition will be held.