Code Week – Highlights of #TeachDay
Publication date: June 4, 2021
#TeachDay – 

Interactive workshops and inspiring speakers
On Saturday the 22 May 2021, we gathered for our first #TeachDay, moderated by #CodeWeek coordinator Annika Ostergren Pofantis. We had over 580 participants from around the globe joining in on this unique virtual event, with over 30 speakers presenting their ideas, and inspiring hundreds of educators and coding enthusiasts.   
The day started off with the opening speech from Thierry Breton, the EU Commissioner for Internal Markets where he highlighted the important role of teachers in helping their students to become digital specialists.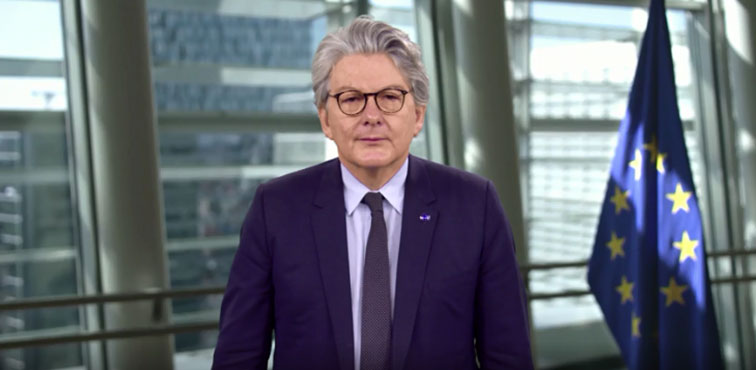 The morning continued with a keynote speech from Massimo Banzi, Co-founder of Arduino, who emphasized that he would like to see everyone getting the opportunity to learn, experiment, and innovate with simple technology regardless of their background and gender. He went on to tell us his personal story about how he was taught in school when he was a young boy, and how he used these same principles to teach his students. He experimented and tried to find something that interested his students and built on their passion. He emphasized that project-based learning is fundamental in helping students learn and get involved. 
The Panel Discussions
Throughout the day, a variety of panel discussions were held. The first panel was led by Arjana Blazic; Code Week Team, where she discussed Innovation in Education with Joe Sheik, Principal – Thames Valley District School Board, Karen Triquet, Ph.D. Researcher and Education & Behavioural Scientist.
Core Member at EDWE, Lidija Krali, Senior Analyst at Knowledge Team at European Schoolnet and eTwinning ambassador, and Robert Ford, Director, British Council Int. School of Moldova. They discussed how teachers could incorporate innovation in the classroom, whether it be indoors or even outdoors.  One of the top tips from this discussion was from Lidija Krali who said "Don't kill the early adapters. Help innovators in your community to get better so you will get better as well". The entire panel agreed on the importance of being brave to try new ideas and spread the word, to network, and how important it is to expand the list of best practices.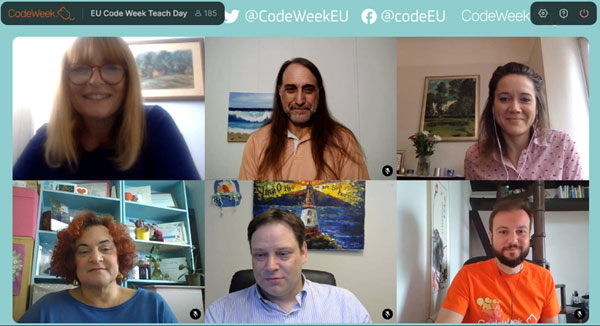 The afternoon panel discussion, co-moderated by Arjana Blazic & Maha Elkheir from the EU Code Week Team,  drew focus on Diversity in Coding with Prof. Alberto Barbero, Founder of Scratch 4 Disability, Dr. Evangelia Balatsou, Cognitive Neuroscientist and Founder of Greek Girls Code, Ellen Walker, EU Code Week ambassador for Switzerland and Founder of RightsTech Women, and Hannah Bryson. Many poignant statements were made about diversity and gender equality, especially concerning coding. Dr. Evangelia Balatsou emphasized: "Our initial goal is to highlight the work of Greek women in science and technology. We want to amplify their voices and encourage more young women and girls to join them." 
The panel also highlighted the importance of how coding can be a helpful tool in teaching children with learning impediments. Alberto Barbero said, "I think the best way is to talk to the kids and help them find their own path of success. I saw that sometimes if you are able to show them their potential, using coding, for example, you help them grow self-esteem."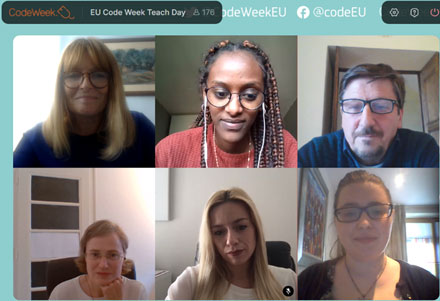 The Masterclass
The morning master class was presented by Alessandro Bogliolo, EU Code Week ambassador and Professor of Information, Science and Technology at the University of Urbino, who gave an interesting talk on Humanized Computing. He explained how computers are at a stage in development where they are trying to understand human behavior and learn from experiences. Alessandro went on to say that programming has become such a high professional competence which is discouraging people to understand the rationale, and encourages people not to be frightened off by this. He emphasized that algorithms were the most important achievement for human beings in the world of programming to date.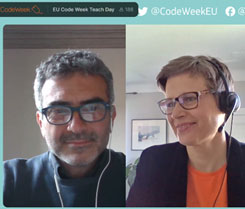 In the afternoon, Carmelo Presicce and Tracy Tang from the Scratch team joined us. Scratch helps young people learn to think creatively, reason systematically, and work collaboratively — essential skills for life in the 21st century.  They showed some new features including the creation of fun filters with face recognition and the scratch ideas page, for great activity guides. An interesting question they raised was: How can we create a context in which people are not afraid to make mistakes?  Carmelo and Tracy highlighted the importance of ambitious and motivated teachers, passing their passion for coding on to their students in the classroom.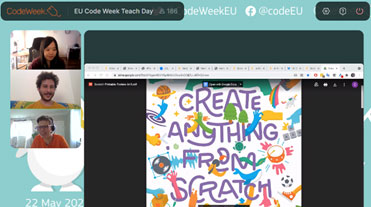 The Workshops
For the workshops, the attendees had an array of choices and topics to choose from and were able to move freely between each of these virtual rooms while at the same time connecting with peers and experts from the teaching community. 
During the afternoon workshop "AI and machine learning: real-life use cases",  Marco Neves, who has contributed to the learning bit on AI, explored the future through a technology perspective. He gave a variety of examples in which artificial intelligence is already part of our everyday lives – online shopping, search engines, and fun filters in our social media accounts were only some of his examples.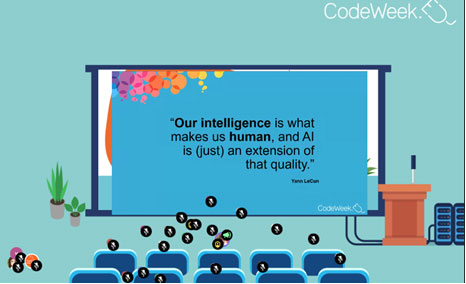 Pauline Maas talked about Tinkering and STEAM with micro:bit during her engaging workshop. She explained that it is best to start teaching micro:bit from the age of 10 – start simple, using all kinds of accessories, e.g. Christmas lightning, be creative – she is building all kind of animal formed micro:bit figures – and grow throughout your coding journey. If you can't wait to get started, Pauline has created a course on micro:bit for you – find out how you can make an automaton with a micro:bit!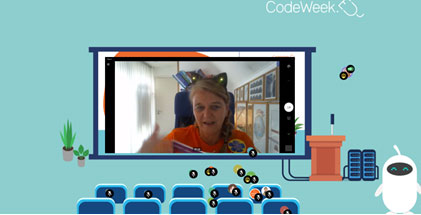 Maria Tsapara and Anthi Arkouli explained in their workshop how teachers can raise awareness of global issues by combining teaching about the Sustainable Development Goals (SDGs) with teaching about coding. In their workshop, they focused on SDG 13, Climate Action,  and discussed numerous coding activities that kindergarten and early primary teachers can cover in their classes. The session also allowed attendees to challenge their knowledge with a quiz! 
In the meantime, Matthias Löwe opened his workshop by saying that game design is not difficult. He cited a variety of game examples, from big 3D worlds to a form of artistic expression, from entries in game jams to experimental performances. He emphasized that creativity is the most important thing in game development, rather than the technical skillset. He encouraged participants to work on their own games using an easy-to-use tool. Participants developed their game ideas by selecting avatars, worlds, other people, goals, and things from a great variety of options. Eventually, they started to draw and slowly the connected images became a game!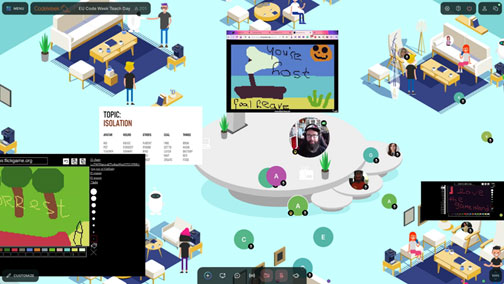 Jaka Zeleznikar started his workshop by describing creative writing and digital technologies and their importance for e-learning. He emphasized the crucial role coding can play in education and described its poetic side.  E-poetry can be found in many "digital collections", such as ELO (Electronic Literature Organization). Jaka also showed the very first algorithms that use AI intelligence to create poetry. He concluded his workshop by showing how to teach children to use basic HTML to change webpage content in browsers.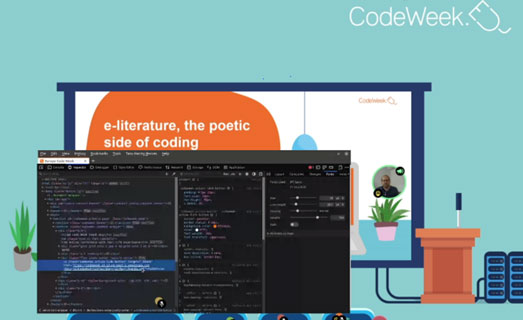 The Exhibitions
Teach Day welcomed 11 exhibitors from the education sector who are actively supporting coding in schools. At each booth, the representatives introduced their initiatives and programs in the form of videos, posters, and live presentations, aiming to show teachers and participants the most exciting news! The participants had the opportunity to have a conversation with the following exhibitors on Teach Day: Code Club, Code.org, Google, Liberty Global, Makeblock, Meet&Code, Micro:bit, Public Libraries 2030, Science on Stage, Scottie Go! and Strawbees. 
See you all at #CodeWeek!
All in all, the #TeachDay was a great success. We asked the attendees: What word comes to your mind when looking back on this day? The top three standing out were Motivation, Connection, and Inspiration. 
We can't wait to see all the activities our motivated community will organise during  Code Week 9-24 October.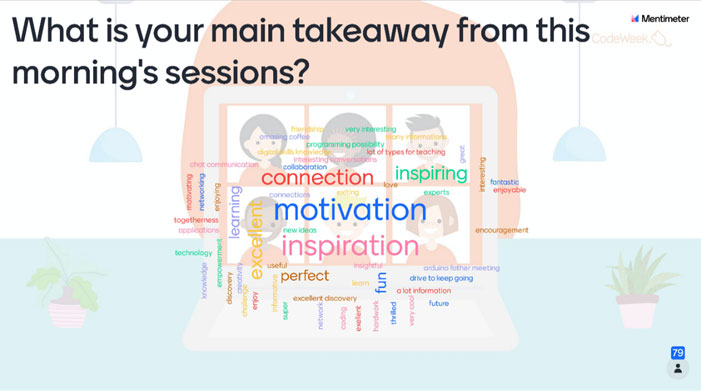 Twitter Highlights

#TeachDay in numbers