CodeWeek in Latvia: sharing ideas and inspiring others to use the power of information technologies
Publication date: January 13, 2022
By Angela Jafarova, Director of the Coding school Datorium and CodeWeek leading teacher. Latvia 
During the EU CodeWeek 2021 I invited Jānis Akmentiņš, Head of Engineering of PRINTFUL, – the very first Latvian unicorn company – to join an online high–school coding lesson held in collaboration with the European coding school Datorium. This activity was organized to inspire our pupils to study information technologies and coding.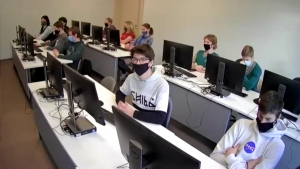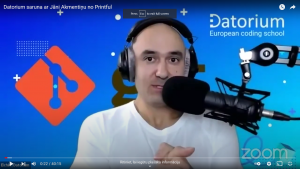 I was happy to see that, on October 14, 2021, the live broadcast reached more than 500 high–school pupils all over Latvia. They learned about Jānis' story and his career path from junior programmer to his current role, as head of IT department in an international company.  
The participants had the opportunity to send their questions to Jānis through the Datorium Discord server #live-stream channel. In addition, pupils from two State Gymnasiums – Dobeles Valsts ģimnāzija and Siguldas Valsts ģimnāzija – were able to ask their question live, when they joined the video call from their computer labs at school.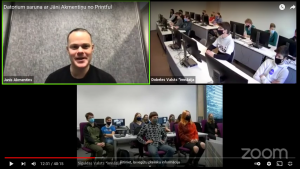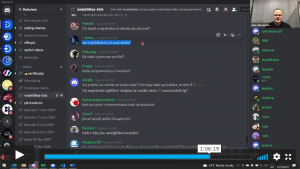 Here are some of the most recurring questions to Jānis and his answers: 
What are the most complicated tasks during your working day? 
– Since I am the Head of the Engineering department team, the most complicated tasks are related to managing people, not related to coding. 
Have you ever programmed some game? 
– Yes, I made some simple games when I was younger. 
How long is your working day? 
– Not all working days are the same 🙂 When some project deadline is approaching, working day can be 24 hours. 
Is it worth to study IT project management? 
– Yes, good IT project managers are very demanded nowadays. It is advantage for an IT project manager to know some programming languages. 
What do I need to get an internship in your company? 
– Follow information on our page, we do have programs for students during the summer. 
Do I need a university degree to start working in an IT company? 
– For IT industry your skills are more important than your degree. Of course, you can study in university but while you are still studying in school or university you should be practicing real projects to create your portfolio and be able to show it to your potential employer. 
And, based on the success this activity had, we have also specifically designed a course to encourage girls to become involved in IT technology 
This special online programming course, called PyGirls, targets girls aged 14-19 and aims to teach them how to code in Python and create their first applications in 4 months. The program will guide the participants in developing their logical thinking and learn modern digital skills and tools to collaborate on their projects and work remotely in teams.  
Luize, our enthusiastic Python tutor has been passionate about science since her childhood and, on top of having studied Python with Datorium for the past three years, she is now studying a university program on information and communication technology. "I really enjoy coding and solving code problems. During sessions with my students, we explore the digital world. I see their motivation growing as we learn coding and they understand how they can realise their ideas in the global digital world. It is not only about coding, it develops many useful skills for their future. Girls, you must try it! It is so exciting and interesting. Remember that learning coding doesn't mean that you should become a programmer. Basic coding skills will significantly improve your competitiveness."