Coding for all: bringing Greek Cypriot and Turkish Cypriot teachers and students together through coding
Publication date: October 12, 2022
By Alexandros Kofteros, EU Code Week Leading Teacher Cyprus 
Cyprus is a beautiful island in the Mediterranean, but with a bitter history that has left scars on the entire population. The situation is still unresolved, despite the best efforts of several UN General Secretaries over (almost) six decades. There have been constant reconciliation attempts made by groups of people over this time, but usually restricted to only a handful of progressive men and women. One of the main exceptions was the Home for Cooperation in the UN-controlled buffer zone, which organises regular events to bring Greek and Turkish Cypriots together and even has a great educational programme called "Imagine" that brings together teachers and students from both communities. 
 It was the work of these small groups of people that work against all odds that inspired us to tap into our passion for programming to try to engage teachers and students from the island's two main communities. We started with Code Week events in 2014, in a primary school in Nicosia, called "Agios Spyridonas", named after the Orthodox Church in the first refugee settlement in Nicosia. It was then that we encountered other people organising similar events around the world, not just in Europe.  
We organised another series of events in 2015, but we noticed that there was no Turkish Cypriot presence. At the time, we did not even have a contact with Turkish Cypriot teachers. In 2016, we applied for the "RISE" Google Award, to organize bi-communal programming and robotics events, open to all and we managed to receive a grant. This was our first official series of collaborative coding events that brought teachers, students and parents from both communities together, including a summer school for all.  
It was at this time that we met with Serhan Gökçebağ, a Turkish Cypriot that you can always recognise by his big smile and interest in teaching programming. We formed a good friendship from the first time he came to meet us at "Science Café" where we hosted some of our events. One of our first projects together was organising a "retro computing" event, with computers from the 1980s, at the Home for Cooperation, which attracted the attention of parents and children from both communities, and also some members of the UN who came to play their childhood games. However, participation was still very limited, with just 20 or 30 people coming to our events.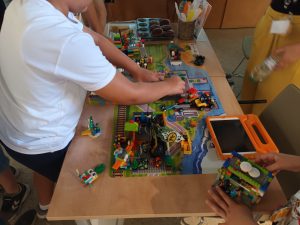 In 2019, we met with Mert Balin. Mert is probably one of the most experienced STEAM teachers I have ever met. We bonded almost immediately, with plans to organise not only coding events but also the First Lego League Jr (later named Discover/Explore). Unfortunately, COVID stopped our plans for a while, but we continued planning and moving ahead. In October 2020, even though we had huge restrictions, we stayed on course and organised webinars on coding and even online bi-communal teacher meetings. We took the risk of preparing 20 teams of Greek and Turkish Cypriots to participate in an event in June 2021, where students from both communities would present their projects using LEGO bricks and programmable robotics kits. Fortunately, the situation with COVID allowed our event to take place in the buffer zone and, with funding for the Lego packages from the US Embassy, we brought together more than 300 people, including 200 students from both communities. We should mention that we had great help and support from the Institute of Engineering and Technology (Cyprus) in all our efforts – without their help, it would have been difficult to organise the events. 
This fuelled our resolve, and we contacted the EU Representation in Cyprus almost immediately after our event. To our good fortune, Nikolaos Isaris from the EU Representation responded immediately and supported our initiative, co-organising with us a CodeWeek event in October 2021, bringing together more than 100 teachers from both communities on the island in robotics activities. We shared resources, we introduced the EU CodeWeek website, and we promoted a series of events throughout the year, leading to a First Lego League event in June 2022 for 30 teams, at which the number of participants increased. Again, Mr Isaris helped us by funding the LEGO packages for all the teams. In total, for the 2021-2022 school year we organised two major teacher meetings (in person) and eight webinars, including an 8th of March event on important women figures that have had a major impact on computer science, leading to our First Lego League event for the second year in a row. 
For the 2022-2023 school year, we are planning to increase our participation and visibility. With my friends Mert Balin and Serhan Gökçebağ, and the support of Mr Isaris from the EU Representation in Cyprus, we are organizing a Code Week teacher meeting in 2022 and a series of trainings, hopefully most of them hybrid this year, leading again to a science fair in May 2023. 
What is important for us is that we bring together young students from both communities in events that will help them engage with each other. We are also thrilled that most of the teachers that participate in our events had little to no interaction with the other community prior to our initiative, and the number of participating teachers keeps increasing every year. It is also important to clarify that our work organising these events is voluntary – we do not charge teams anything, and the funding from the EU or the Institute of Engineering and Technology goes to covering our expenses (LEGO packages, venue, lunch for all participants, etc.). 
Check out the video from our 2021 event: FIRST® LEGO® League Explore 2021 Nicosia / Cyprus – YouTube