Coding @ I.C. "Karol Wojtyla – Arenella"
Publication date: October 24, 2023
Italian EU Code Week Leading Teacher Fabrizia Agnello carried out a Local Train the Trainer course for her kindergarten and primary school colleagues from I.C. "Karol Wojtyla – Arenella" in Palermo. The course focused on computational thinking and the basics of coding. After a brief theoretical introduction, the participating teachers got to know and were able to practice different unplugged and plugged coding activities. The training programme incorporated the values of EU Code Week and stressed the importance of involving students of all ages in this initiative. In this blog, Fabrizia tells us about her experience. 
During the training, we explored together unplugged activities such as CodyFeet, CodyRoby, CodyColor and PixelArt. Firstly, the participants created several different paths, first on specifically prepared Google Jamboards, then in real life, integrating them with known stories and made-up stories, collaboratively debugging each path.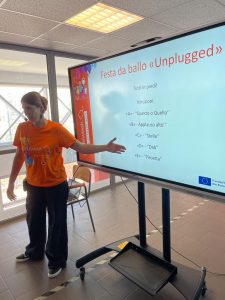 Furthermore, all the resources to create the tiles and cards to carry out these activities are available online at CodyFeet, CodyRoby, and CodyColor. To create codes and images for Pixel Art and to find ready-made codes for images from a variety of topics, I advise using the web App "ZaplyCode", which is also available in English.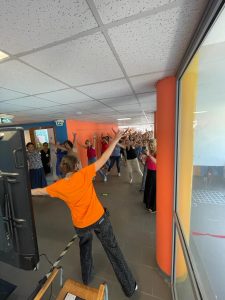 Undoubtedly, the star of the Robotics part of the training was Blue-Bot, by TTS. First, the participating teachers were able to try the robot's functions online on different mats. After the virtual training, the participants received the real Blue-bots and some ready mats to practice on, and they really enjoyed it! The training continued with block coding using the Scratch Jr app, with which the teachers created animated stories and dialogues in small groups.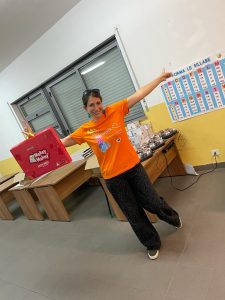 Magic happened when I connected the Makey Makey to the computer: my "students" played musical instruments such as bongos and piano that they made themselves, using playdough and… water! 
Thanks to the Summer School experience, I had prepared a surprise activity: the Unplugged Dance Party. I asked all the participants to go out of the classroom, leaving all their bags and devices behind, because they needed to be "light". They were not aware of what they were going to be involved in and were a little reluctant at the beginning. However, after I explained the dance codes to them and pressed play on 'YMCA', all their reluctance and shyness disappeared and the party began!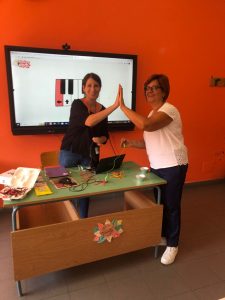 Check out this video summary of the course. 
I am very happy with how the course developed and the enthusiasm of my student teachers makes me want to repeat the experience again and again. The next course will be for my lower secondary school colleagues, so stay tuned for more happy coding stories!