Dancing to the beat of EU Code Week
Publication date: October 14, 2021
Teacher Maria Giovanna Battaglia and her pupils came up with a fun way to engage in the Code Week Challenge and they share the result with us.
"I have been teaching for 30 years in kindergarten and I have been teaching in primary school for 6 years. Throughout my professional career I have always paid great attention to logical scientific learning-mathematics and now in primary school I teach mathematics, science, and technology.
I have been a digital animator for 9 years, although I have been taking care of the digitalisation processes of my school since 1997: I took care of the wiring of the buildings and the training of my colleagues.
My interest in coding started in 2013, and I came across Alessandro Bogliolo's first massive open online course (MOOC) and in January 2014. I have followed him in every online and onsite event, even with my pupils. Imagine: I was still teaching in kindergarten, and in my class group there were children under the age of three, but they too followed the coding proposals with interest. Today, these kids are my primary pupils and when I talk to them about programming, I feel like I'm talking to my colleagues, nice right?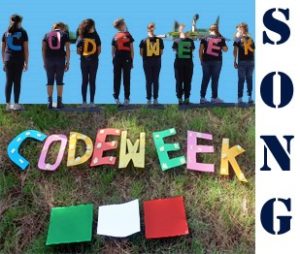 Code Week for my pupils has always been a party. Every year they expect it, because it is the moment in which they are encouraged to design, create and implement diverse projects, because they can give visibility to their final product.
For the activity that we developed this year, we took a cue from the challenges poster proposed by the Code Week Team, and we turned on our creative engines!
This is the path we followed:
We made the students choose the challenges they would like to participate in and explain their project idea.
The 12 students who had chosen the "Create a dance" challenge formed a work team and together we identified the steps we take to code. They then chose the music and created the moves.
With the help from their English teacher, they created the English text following the rhythm and melody of a song known to the students: "Gioca Jouer" by Claudio Cecchetto.
Finally, on a day when the school was closed due to local elections, we went to the Villa Comunale in our country and had plenty of fun while making the video recordings.
In the end, it is the process that counts, the relationships that are built and the joy of collaborating to achieve a common goal. The result is this video, that the students took fully in their hands."