Dancing with the stars….or Zorba's syrtaki?
Publication date: October 31, 2021
By Julie Plastira. Kindergarten Teacher. Lavrio, Greece. 
I am Julie Plastira and I am a teacher in 4th Kindergarten of Lavrio in Greece. Being  a member with 12 other colleagues  in an etwinning project which is dedicated to our great Mikis Theodorakis and his beautiful music, there was an idea as an introduction activity connected with CodeWeek.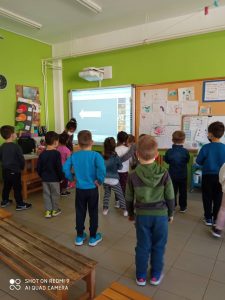 The syrtaki  is a popular dance of Greek  origin, choreographed by Giorgos Provias for the 1964 film Zorba the Greek. It is a recent Greek folk dance, and a mixture of the slow and fast rhythms of the hasapiko dance (Wikipedia). Taking the whole idea from flash mobs in many countries in Europe,Australia and the United States, I said; Why not with arrows? I knew that children would love the whole idea! So let's make a flash mob for toddlers (and other ages of course!) and let's dance with this great music! Following arrows sometimes is difficult for these ages, sometimes is ok. We try to connect our body movement with the right order. If we manage to synchronize it, that will be perfect! They try to calculate their movements, how many steps, when we are clapping etc.  The music starts to get faster and faster and this makes children express themselves in joyful ways  and many laughs (this is our purpose as teachers, isn't it?)  
11 schools participated from different places in Greece and 2 schools from Serbia.(I was very happy and I didn't expect that!) The activity posted on facebook and in comments with other teachers, we exchanged great  ideas! Maybe we could organise a dancing activity with other songs from famous musicians from many countries. Title: "Travelling and dancing with…us!"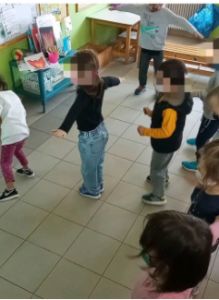 As a collaborative tool, a padlet is created with the same title. You can see more ….HERE