Digital and pedagogical backpack fully recharged
Publication date: August 16, 2023
By: Eva Toth, Leading teacher, Hungary 
The European Code Week Summer School was held from 10 to 14 July 2023 at the European Schoolnet headquarters in Brussels. The 5-day training was attended by 29 leading teachers from 19 countries to discuss the promotion of Code Week, which emphasizes the importance of algorithmic thinking, and to share good practices with each other.  
My top 5 list of tools I have packed into my digital backpack during these 5 days: 
memecam

–

Would you like to create memes from your photos, but you are not creative enough? No problem, upload the image, provide the context, and the AI will do the rest for you.

P

adlet

I

can't

draw

–

Padlet is an online platform that allows students to create and share content on a common platform. In addition to the collaborative options, the "I can't draw" menu has also appeared, where it generates fantastic quality images for us based on a sufficiently detailed description.

See below an example.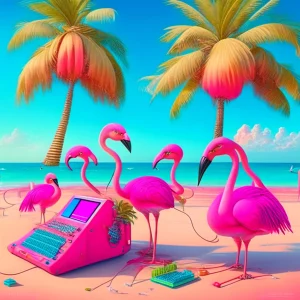 google bard

–

the experimental version of Google Bard became available during the summer school. 

 
magicschool.ai

– this

platform offers over 40 AI tools to help teachers with their lesson planning work – according to the description, it can save you up to 10 hours of work per week.

coding and poetry combined

– Who says poetry and coding cannot be merged together to develop 21st century skills?
My digital backpack of some of the tools I have got to know during the school can be accessed here.  
Also, I had the opportunity to present at the Teachmeet section of the week – how can we turn Code Week into a cross-curricular thematic week? How can we plan a whole week-long project with gradually more difficult coding challenges? How can we involve non-STEM subjects and develop projects evolving around a common topic to be solved? We have managed to explore the methodology of thematic weeks and how we can implement, plan and evaluate these PBL initiatives. The material can be viewed here. 
I definitely had the feeling of being the odd (wo)man out, being a non-IT teacher, selected as the only Hungarian representative. Though the whole week revolved around AI from time to time, there was something deeper and more meaningful in the air every day: a mutual understanding, the sense of being surrounded by like-minded colleagues and a sense of belonging.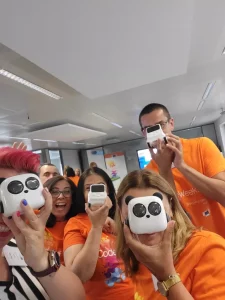 In conclusion, thank you CodeWeek once again for breaking down the barriers not only around coding but also between borders and bonding us into a supporting international team of code lovers.