Digital Children's Rights Workshop: Save the date!
Publication date: October 10, 2023
In a world where technology shapes the lives of children and young people, it's imperative that we understand and safeguard their digital rights. EU Code Week is proud to announce an upcoming webinar on Digital Children's Rights, featuring the visionary Peter Joziasse, founder of the Digital Child Rights Foundation.  
In this webinar, attendees will delve into the critical realm of children's rights in the digital landscape. Peter will present the ground-breaking United Nations General Comment 25, a document that sheds light on children's rights in the context of the digital environment, based on the UN Convention on the Rights of the Child.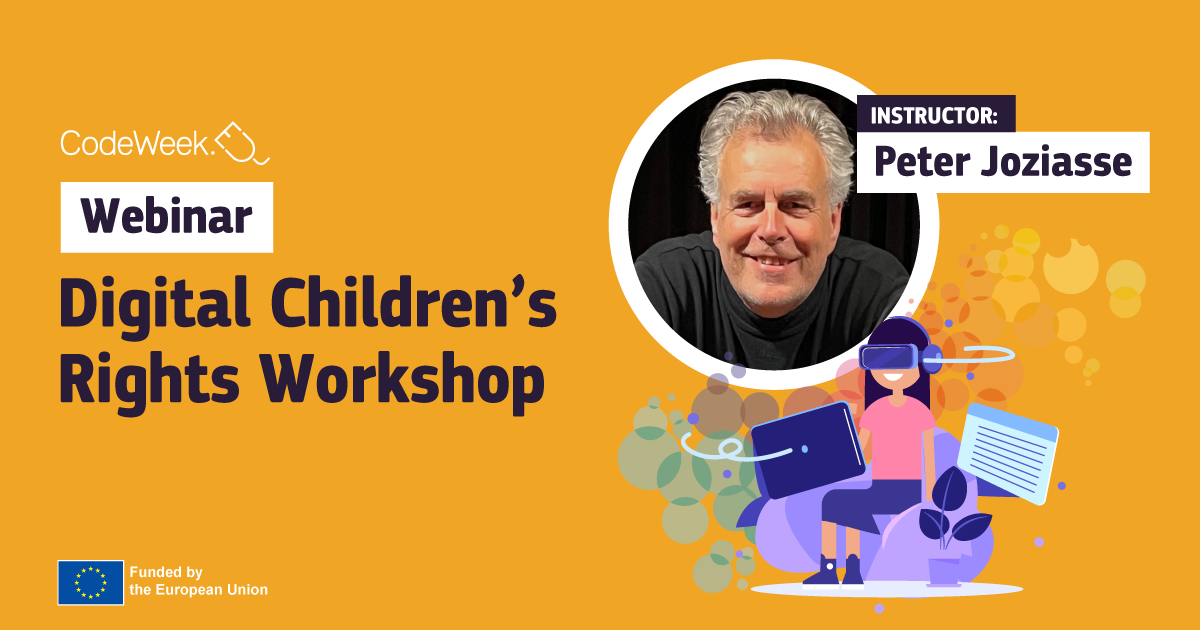 Key information
Date: Thursday, 19 October 2023 
Time: 17:00 – 18:00 CEST 
Registration: Register here 
Moreover, Peter will lead an interactive demonstration of the Child Rights PLAY toolbox—a remarkable resource developed by the Digital Child Rights Foundation. This toolbox is a testament to their commitment to promoting digital literacy in schools, empowering youth aged 10 to 18, and fostering participation in city programmes.  
So, what can you expect from this exciting webinar? 
Understanding Digital Children's Rights

: Gain profound insights into the rights of children in the digital age, based on the UN General Comment 25.

 

Exploring the Child Rights PLAY Toolbox

: Discover an array of interactive tools designed to help young people recognize their digital rights and responsibilities. These tools encourage critical thinking about their digital behaviour. They also provide a platform for them to voice their opinions on digital matters.

 

Empowerment through Participation

: Learn how to initiate a free pilot programme with children and young people in your local area, actively engaging them in discussions about their digital lives.

 
This webinar seeks to ensure that children and young people have a voice in shaping their digital world. By joining the Digital Child Rights Foundation's initiatives, you can be a part of this transformative journey. 
Don't miss this opportunity to become informed advocates for digital children's rights. Register now and join us on Thursday, 19 October 2023, at 17:00 CEST.
Let's work together to create a digital world where children's rights are respected, and their voices are heard!