EU Code Week 2023: new teachers learn the ropes
Publication date: July 4, 2023
At an information session on EU Code Week initiative for new teachers, held on 20 June 2023, Code Week organisers introduced educators to Code Week and provided insights into how they can become active members of the community. Led by community members, Code Week is a grassroots initiative that strives to bring coding and digital literacy to students in a fun and engaging manner. Let's take a look at some of the key points raised at the information session.
The session began with Eirini Symeonidou, a member of the EU Code Week team, emphasising the importance of the Code Week community in making the initiative a success. She highlighted the collaborative nature of the initiative, where teachers from across Europe and beyond share their experiences, thoughts, and ideas to train each other and bring computational thinking closer to  every student.
Stay updated on coding
The Code Week website plays a crucial role in connecting individuals to the Code Week community. It is fully accessible and available in various European languages, including Ukrainian. The website provides resources, blog posts, podcasts, and interviews with inspiring teachers, allowing educators to stay updated and learn from each other's experiences. What's more, the EU Code Week social media channels, such as Twitter, Facebook, and Instagram, offer additional opportunities to engage with the community and access educational materials.
The session also highlighted the significance of Code Week in the context of the European Digital Education Action Plan. Code Week is aligned with the European Union's goal of equipping all European citizens with digital skills. In this context, Code Week is not just for students, it is also targeting adults' skills. EU Code Week aims to equip people, and particularly teachers and educators, with the necessary skills for the digital age.
Fundamental role of teachers
Alessandro Bogliolo, Code Week Ambassador from Italy, stressed that the role of teachers and schools in Code Week is fundamental. Teachers have the freedom to decide how they will participate, and their involvement helps reach a diverse audience, including those who may not be aware of the importance of coding. He highlighted how Code Week relies on volunteers, particularly leading teachers who inspire and motivate their peers. The initiative also invests in teachers' professional development through training opportunities, school kits, and teaching materials.
Ellen Walker, a Code Week Ambassador from Switzerland shared her experience of actively taking part in the initiative. She works with an organisation that tries to get more women involved in programming and tech jobs. Brice Copy, another Swiss Ambassador from CERN, noted that the support provided by Code Week is highly appreciated, particularly as regards actively engaging individuals in various events.  Ellen and Brice organise trainings that focus on robotics, programming and human rights, among other topics.
Evgeni Minev, a Code Week Ambassador from Bulgaria, spoke about the transnational aspect of Code Week: "You don't have to work in your village, city or town alone, you can find friends all across Europe with whom you can work", he said.
He noted that collaborating in cross-border initiatives could also earn you a Certificate of Excellence, which is another motivator. He mentioned eTwinning as an excellent tool to organise cross-border initiatives. French Code Week Ambassador Laurent Touché spoke about Scratch, where users can use code to write poetry, in addition other francophone coding resources such as Robocup Junior.
Portuguese Code Week Ambassador Anhelina Bykova spoke about Code Week events organised in Portugal, which had 598 activities in 2022. Some of the activities organised include Minecraft, introducing children to programming using a bee-bot to search for healthy food, and programming on Open Roberta Lab. She also mentioned unplugged activities, which are good for primary and pre-primary pupils.
Every week is Code Week
Wrapping up the event, moderator Arjana Blazic spoke about the Code Week Challenges, which teachers can use to introduce coding to their students. These are easily adaptable to different teaching contexts and the website contains concrete examples and guidelines  on use in the classroom. She noted that a second set of Code Week Challenges was currently being prepared, encouraging everyone to check the website regularly!
She also informed listeners on how to participate in Code Week, starting with finding their country ambassador and beginning with Code Week Learning Bits or Code Week Challenges. Other steps include organising an activity, registering it on the EU Code Week map, and signing up for the Code Week Newsletter, so you can get inspiration.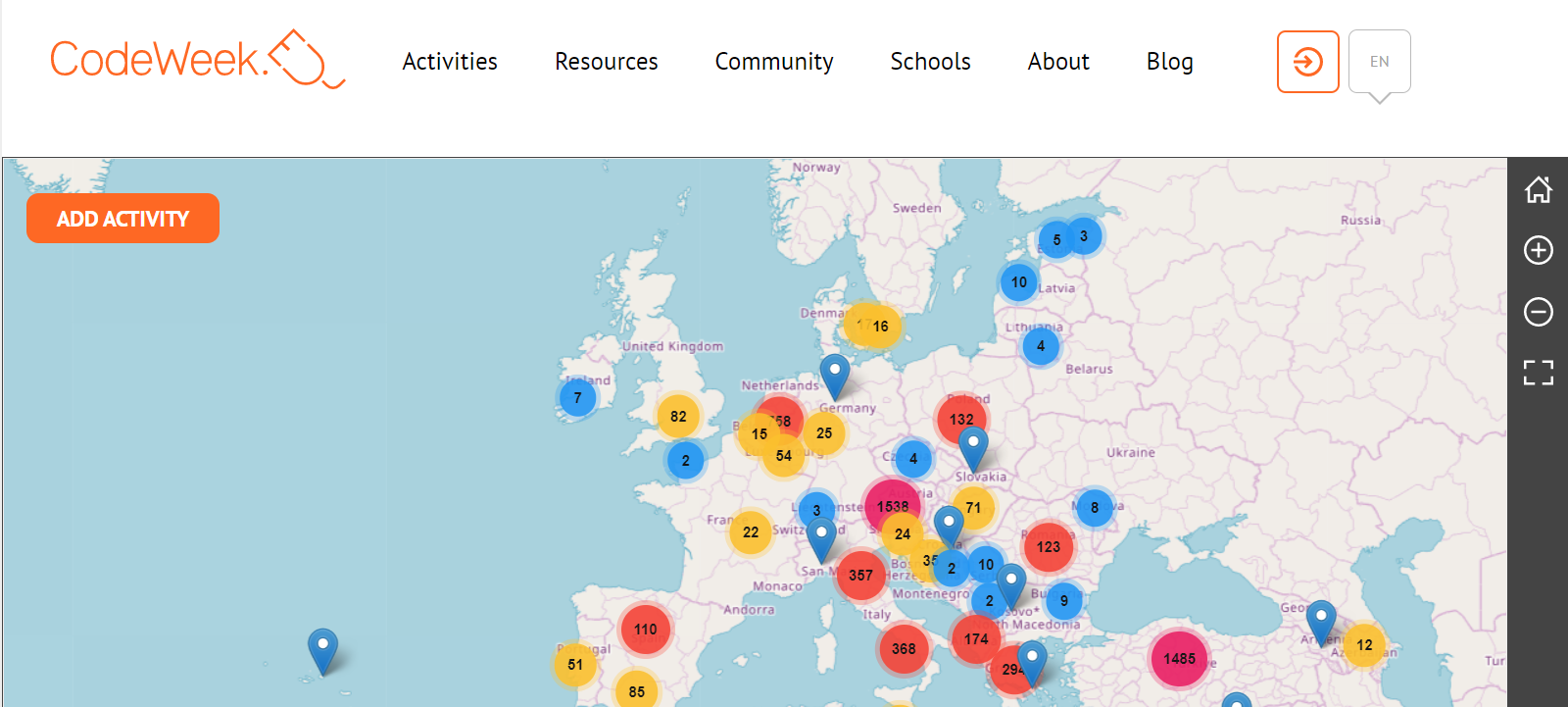 An important point made at the session was that Code Week is not just an event happening in October – every week is Code Week. So, make sure to visit the Code Week website, to explore the resources, join the community, and become part of this vibrant network of educators dedicated to empowering students with digital skills.