EU Code Week celebrates teachers on World Teachers' Day
Publication date: October 5, 2023
On 5 October, we celebrate World Teachers' Day, an occasion to honour and appreciate the dedicated educators who shape the future of our society. This year's theme, "The teachers we need for the education we want," highlights the critical role that teachers play in delivering quality education. EU Code Week recognizes this and provides valuable resources to support teachers in their mission to introduce coding and digital literacy to students of all ages.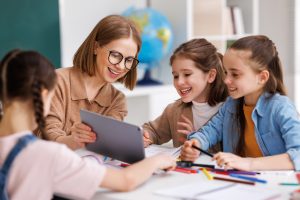 Below we outline just some of the EU Code Week resources that are available to teachers, to help them engage  their students and bring coding into their classrooms. You can check out all the EU Code Week resources in the relevant section on the Code Week website. 
EU Code Week resources for teachers
1

. Coding tutorials and activities

:
Teacher support

:
Expanding the curriculum

:
Coding clubs:
Real-world relevance:
Inclusive education:
Advanced programming:
Coding competitions:
As we celebrate World Teachers' Day, let's salute the incredible work teachers do every day. EU Code Week is here to provide educators with the tools and resources they need to equip students for the digital age. These resources empower teachers to make coding education accessible and exciting for all, creating a brighter future for our learners. Thank you to all the teachers who are transforming education through coding and digital literacy!