EU Code Week celebrates World Science Day for Peace and Development
Publication date: November 10, 2023
Did you know that 10 November is World Science Day for Peace and Development? This important day highlights the vital role of science in our society and emphasises the need to engage the public in discussions about emerging scientific issues. It reminds us that science is not confined to laboratories and research institutions but is intertwined with our daily lives. The day encourages the global community to unite around the common goal of promoting peace and sustainable development through the power of science. In this blog post, we'll explore the significance of World Science Day for Peace and Development and the role of coding in sustainable development.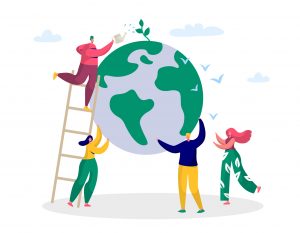 World Science Day for Peace and Development encourages us to bridge the gap between science and society. It's about ensuring that the public is well-informed about the latest scientific developments and the profound impact they have on our lives. It also emphasises the role of scientists in expanding our understanding of our planet and working towards more sustainable societies.
The theme for 2023 is 'Building Trust in Science'. The UN notes that the role of science in shaping our collective future can only be fulfilled when there is trust in science. It is trust in science that fuels the development and application of evidence-based solutions to our world's multifaceted challenges.
Coding and sustainable development
With its focus on coding, digital literacy, and computer science education, EU Code Week also contributes to the goals of World Science Day for Peace and Development. In today's increasingly digital world, coding and computer science skills are essential. By teaching individuals, especially the youth, how to code, we are preparing them for future careers and empowering them to be active participants in a technology-driven society.
By promoting digital skills and coding, EU Code Week is contributing to achieving Sustainable Development Goals such as Quality Education (Goal 4) and Industry, Innovation, and Infrastructure (Goal 9), helping to create a workforce capable of driving technological progress and innovation.
As we commemorate World Science Day for Peace and Development, let us recognise the importance of science in our lives and the need for global cooperation to address the challenges of our time. Whether through basic sciences or digital literacy, science has the power to bring about positive change. It is through these initiatives that we can inspire the next generation of scientists, coders, and innovators, working together for a more peaceful and sustainable world.