EU Code Week Community Meeting: Shaping a Digital Future
Publication date: September 13, 2023
The EU Code Week Community recently came together for a momentous face-to-face meeting in Brussels on August 31 and September 1, 2023. This gathering marked a significant opportunity for the EU Code Week Community to reflect on their achievements, strengthen their collaborative efforts at national and pan-European level, and plan the upcoming edition of EU Code Week. With attendees from various corners of Europe, the event was brimming with enthusiasm and ideas for EU Code Week 2023 and beyond. 
One of the primary objectives of the meeting was to enhance collaboration among community members, with a clear aim to scale up the initiative. The EU Code Week is all about fostering digital skills and literacy, and this meeting served as a hub for like-minded individuals to work together towards a common goal.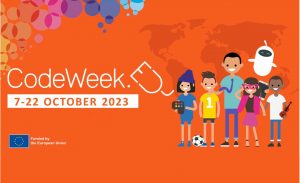 The meeting kicked off with a warm welcome address, which set the tone for the two-day event. Anne Bajart, Deputy Head of Unit DG CONNECT, reiterated the European Commission's unwavering support for the Code Week initiative, underlining its pivotal role in shaping a digitally literate Europe. 
EU Code Week Quote Map 
The event featured an icebreaker session, allowing participants to get to know one another better and share their thoughts. During this session, participants created the EU Code Week Quote Map, writing down what EU Code Week means for them. Community members hung their quotes on the wall and, in this way, build  a Quote Map at the meeting venue.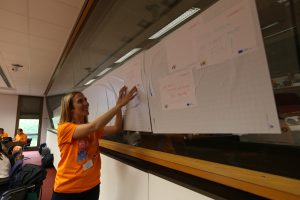 Upcoming activities 
This was followed by a comprehensive overview of EU Code Week 2023 participation. Certainly, a highlight of the meeting was the unveiling of exciting announcements and upcoming activities for EU Code Week 2023. Some of the key points discussed included: 
A new podcast series to delve deeper into the world of coding and digital

literacy

.

 

Upcoming hackathons that will challenge and inspire participants.

 

The highly anticipated Code Week Kick-off online event scheduled for October 9, 2023.

 

A Teach Day online event set for February 2023, aimed at furthering educational efforts.

 
The Leading Teachers Awards, recognizing educators who excel in promoting digital skills.

 

The new MOOC (Massive Open Online Course) on "Navigating Innovative Technologies Across the Curriculum".

 

Local train-the-trainer courses to empower educators at regional level.

 

The "Experts Go 'Back to School'" campaign aimed at fostering real-world learning experiences.

 
At the meeting, there was a significant focus on leveraging the EU Code Week to unleash digital skills in the European Year of Skills. This commitment to bridging the digital divide and equipping individuals with essential skills is a testament to the dedication of the EU Code Week Community. 
The second part of the first day also saw breakout sessions for community groups, including ambassadors, leading teachers, and Edu coordinators. These sessions allowed for in-depth discussions and brainstorming, leading to insights on pan-European activities, engagement strategies, and national plans for integrating informatics into formal education. 
Acknowledging Excellence
In addition, the meeting also hosted the "Leading Teachers Award" Ceremony, where exemplary educators from different countries were recognised for their contributions to digital education. This recognition reinforces the vital role that educators play in empowering future generations.  
This was followed by a presentation on Tangible Coding, which highlighted a fun and innovative approach to teaching computational thinking and programming concepts.  
The day was wrapped up with an open mic session in which participants shared announcements and insights. Later, a networking dinner provided a relaxed atmosphere for further discussions and connections. 
Building Momentum
The second day commenced with a warm welcome, setting the stage for an eventful day ahead. Partners played a crucial role on the second day of the meeting, which showcased their commitment to the initiative and the community. Community members had the opportunity to engage with partners, fostering collaborations for the future. EU Code Week Partners (Code.org, Apple, Arduino, Meet and Code Digital Child Rights, Fraunhofer) shared information on the support they offer to EU Code Week activities as well as the actions they are organising in the upcoming months before EU Code Week.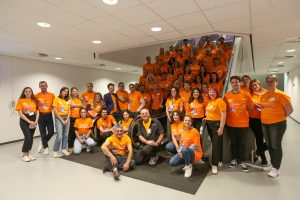 The second day also featured group activities that focused on multiplying Code Week's impact at local level. Discussions revolved around expanding participation, especially among girls and women in digital studies and careers. 
The plenary session saw participants sharing insights from their group activities and a presentation on Hedy and Snap added a practical dimension to the event. Participants also engaged in a series of workshops and discussions to fine-tune their understanding and strategies, preparing them for the challenges and opportunities of EU Code Week 2023. 
A bright digital future 
The EU Code Week Community Meeting 2023 was a dynamic and productive event. It reinforced the commitment of community members to boost digital literacy across Europe, inspire teachers and students, and promote computational thinking. The initiatives and collaborations forged during this meeting will be pivotal in shaping a brighter digital future for Europe. As we look ahead, EU Code Week remains at the forefront of empowering individuals with the digital skills they need to thrive in an increasingly digital world.