EU Code Week Deep Dive MOOC
Publication date: July 29, 2020
Let's dive deeper! The EU Code Week Deep Dive massive open online course (MOOC) starts on 16 September 2020. Apply now to participate in the biggest online coding initiative in the EU and worldwide.
Sign up here: https://bit.ly/DEEPDIVE2020
The idea behind the Deep Dive MOOC is to raise awareness about the importance of integrating coding and computational thinking into the classroom. It provides you with ideas, free training material and resources about coding, while the ready-made lessons plans will support you in your activities. Additionally, you will learn all about Code Week and how to fully participate in this initiative and spread the power of coding in the classroom and beyond. Last year, the Deep Dive MOOC engaged 4.2 million people in Europe and beyond.
Who is it for, and do I need experience to participate?
The Deep Dive MOOC is primarily aimed at primary and secondary school teachers, regardless of the subject they teach. Nevertheless, it's also designed for young adults, parents, librarians, entrepreneurs, policymakers – anyone who is interested in the topic. It is not necessary to have previous experience or knowledge about coding or computational thinking to participate in these courses. Everyone is welcome to learn.
Why coding?
As teachers and parents, you want to educate the children and prepare them for life. Coding teaches everyone a range of transferable skills that are useful for work and everyday life. Coding teaches children how to think and solve problems helping them realise their academic and professional ambitions. Find out more about the advantages of coding and our values here.
What am I learning?
In these weeks you'll learn everything you need to know about coding. The EU Code Week raises awareness about the importance of integrating coding and computational thinking into the everyday lives of school pupils, adults and anyone who is interested. The course is organised around the principle of peer learning, meaning you can learn from each other's experiences and ideas and discuss everything with the other participants.
You will learn about 5 key areas:

#1: Why Coding, Computational Thinking, and the EU Code Week Initiative
#2: Computational Thinking and Unplugged Coding
#3: Visual Programming Languages, Scratch & Python
#4: Robotics, Tinkering and Making
#5: Coding for All, App Development and CS Fundamentals
These 5 lessons will give you an overview of the Code Week initiative and will answer all your questions on coding. You will also get introduced to the different activities you can organise at home or in school and be given access to learning materials and lesson plans. You will become familiar with innovative tools such as visual programming tools, unplugged activities, robotics and more. With this knowledge, you will be able to integrate coding into every subject and as fun games and activities at home.
What's more, the EU Code Week Teachers group on Facebook lets you stay in contact with other passionate teachers around the globe, chat about the courses, share ideas and get to know more about the initiative.
How do I earn a certificate?
After completing the courses, you'll be awarded a participation certificate. You simply have to organise a lesson (ideally with your students or with your colleagues) and register it in the Code Week map. Additionally, you will have to review two EU Code Week activities registered by other participants. The final deadline to complete all activities is 30 October 2020.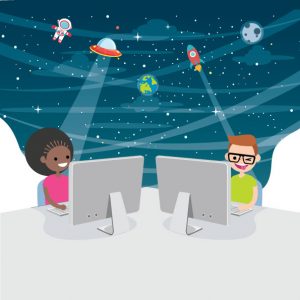 Key information
EU Code Week Deep Dive MOOC
Start date: 16 September 2020
End date: 30 September 2020
Total estimated effort:  25 hours
Language:  English (National moderators available to support you)
Number of modules: 5
About the EU Code Week
EU Code Week is a grassroots initiative which last year brought together 4.2 million people in Europe and beyond. The idea is to make programming more visible, to show young, adults and elderly how you bring ideas to life with code, to demystify these skills and bring motivated people together to learn. In 2020 the Code Week will take place online between 10 and 25 October. The Deep Dive MOOC is the follow up of the Icebreaker MOOC that took place in June this year. There, teachers got introduced to the EU Code Week initiative. Now it is time to dive into the world of coding.
Other Useful links