EU Code Week: Empowering Digital Literacy on International Literacy Day & Beyond
Publication date: September 21, 2023
On September 8, the world celebrated International Literacy Day, a day dedicated to highlighting the importance of literacy as a fundamental human right and a key driver of personal and societal development. In the digital age, literacy has evolved to encompass not only traditional reading and writing skills but also digital literacy, a skill set essential for navigating the increasingly technology-driven world we live in. In this blog post, we explore how EU Code Week is playing a pivotal role in promoting digital literacy and empowering educators to integrate coding and computational thinking into their teaching practices.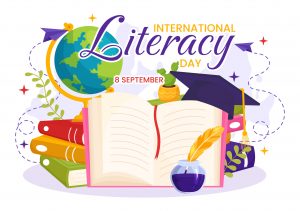 International Literacy Day has been observed annually since 1967, emphasising the importance of literacy as a matter of dignity and human rights. It serves as a reminder of the ongoing challenges related to literacy, with millions of people still lacking basic reading and writing skills. Literacy is not only crucial for personal development, but also plays a vital role in empowering refugees, migrants, and internally displaced persons. It contributes to building resilience, self-confidence, better health, employment opportunities, and social integration. 
In addition to traditional literacy, digital literacy has become an increasingly important skill needed to thrive in the modern world. EU Code Week has been at the forefront of promoting digital literacy in a fun and engaging manner. While literacy traditionally focused on reading and writing, today's world also demands proficiency in digital skills. EU Code Week recognizes this need and offers educators and students the opportunity to dive into the world of coding and computational thinking. 
Professional development with EU Code Week
One of the cornerstones of EU Code Week's efforts to promote digital literacy is its training materials and online courses, including Learning Bits, for which no previous coding or programming experience is needed, and each module takes only around 15 minutes to complete. The modules introduce you to key concepts related to coding and computational thinking activities. Code Week also offers a series of Massive Open Online Courses (MOOCs), which are accessible to all educators, regardless of the age group or subject they teach, and require no prior experience or knowledge of coding. They provide a platform for teachers to enhance their digital skills, equipping them to incorporate coding and computational thinking into their teaching practices. 
Free and accessible resources
Moreover, EU Code Week MOOCs offer a treasure trove of free and accessible resources, podcasts, teaching materials, ideas, and best practice examples. These resources are designed to inspire and empower both educators and students. They introduce coding, computational thinking, emerging technologies, and artificial intelligence into the classroom in a safe and engaging way. 
EU Code Week challenges
In addition to learning resources, EU Code Week also offers a set of challenges designed to engage students and improve their digital literacy. These challenges can be undertaken individually, in the classroom, with colleagues, or even among friends. The best part is that you can adapt them to suit the needs, interests, and age of your participants, making them versatile and inclusive.  
In conclusion, on International Literacy Day, we recognise that promoting literacy is a year-round endeavour and that literacy has evolved to encompass digital skills as an integral part of our daily lives. EU Code Week is leading the charge in promoting digital literacy:  offering educators professional development opportunities and engaging students with challenges that foster digital skills. As we work towards a more literate and sustainable society, EU Code Week's initiatives are crucial steps in ensuring that everyone has the opportunity to thrive in the digital age.