EU Code Week, the biggest European coding initiative turns 10
Publication date: October 5, 2022
From 8 October 2022, people in Europe and beyond will get a new chance to improve their coding and computational thinking skills. They will join EU Code Week – a movement that promotes computer programming as a means of expressing creativity, stimulating teamwork and encouraging innovation. With hundreds of materials, resources and lesson plans in 29 languages, EU Code Week also empowers teachers and educators and helps them to bring coding to every classroom.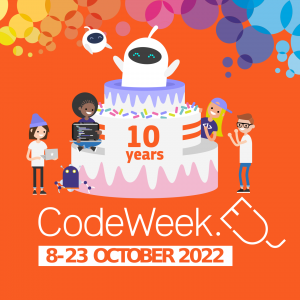 The celebration will start already on 6 October 2022 with a virtual launch event. Several politicians will talk about the importance of coding for lives and jobs in the future. Leaders of companies and organisations will describe how they contribute to increasing coding skills in the society and students and teachers from several schools across Europe will share their experience EU Code Week so far and plans for the 2022 edition. You will also learn how anyone can actively contribute and organise a Code Week activity in his/her city or region. The virtual event starts at 17:00 CET and will be streamed on Facebook and Youtube.
In 2021, over 4 million people participated in EU Code Week through more than 78 thousand activities. Also in 2022, every activity is pinned on the EU Code Week map. To see the current statistics and number of registered activities per country you can check the Scoreboard. Over the years, EU Code Week grew into the biggest coding initiative in Europe. Anyone who shares the passion for computer programming and agrees with Code Week values is welcome. That is why, you can often see on the map activities from Meet and Code, Hour of Code or CoderDojo, next to independent activities in schools or local coding clubs. No matter how you are or where you are from, if you code you can be part of EU Code Week.
EU Code Week is a grass-root initiative and the community always comes with new inspirational ideas and activities. To mark the 10th anniversary, teachers, organisers and other Code Week supporters recorded a birthday video where they convey the positive spirit and birthday messages in their local languages.
Collaboration is at the heart of EU Code Week. As in previous editions, activity organisers can join forces and participate in the CodeWeek4All challenge. By linking either 10 activities registered by 10 different organisers or activities from 3 different countries, you can receive a certificate of excellence.
For many years, EU Code Week has empowered teachers and offers a wide range of video tutorials with lesson plans and activity sheets in all main languages. These can be easily brought to any classroom. Coding is not strictly related to technology. Even teachers of biology, history and social sciences can organise activities that help pupils and students to deepen their knowledge in the subject and improve their coding skills and the same time. For those who want to bring their coding activities to the next level, we have prepared additional challenges that you can do on your own, in the classroom, with colleagues or friends.
Teachers and trainers who want to become true experts can join the EU Code Week Bootcamp – an online course with video lessons, local study groups and practical tips that will help them to make their first steps as digital creators.
For additional inspiration, you can listen to the 2 seasons of EU Code Week podcast with guests from education, technology, industry or non-profit sector.
To learn more, read the official press release and follow @CodeWeekEU on Twitter, Facebook, Linked or Instagram.