EUMaster4HPC – call now open!
Publication date: January 19, 2023
Students can now apply for the EUMaster4HPC, the first pan-European master's programme in high-performance computing (HPC). The call for applications opened in December 2022 and is ongoing in consecutive application periods. The programme will provide students with unique qualifications and career prospects in the rapidly expanding field of HPC, as well as an opportunity to live and study in different European cities.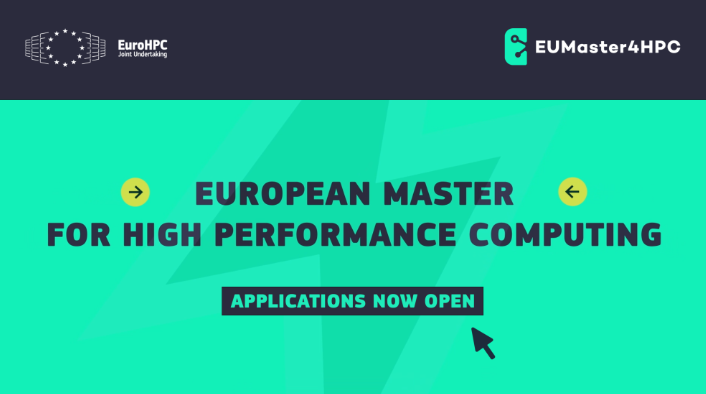 Introduction to the programme  
The programme, which will begin in autumn 2023, will give the next generation of supercomputing experts the opportunity to learn from leading European HPC specialists through online and on-site courses. The course will be delivered at eight different European universities in Luxembourg, Spain, Italy, Germany, France, Bulgaria, Switzerland and Sweden. Students can choose one of the eight universities to start the programme and will relocate for the second year to another university, based on their specialisation. 
Why joining   
This unique master's programme brings together major European players in HPC education, as well as the European Technology Platform for HPC (ETP4HPC), the most important European industry association of global leaders in HPC. This unique partnership between HPC education and the private sector will provide students with a broad range of valuable competences and skills in HPC and HPC-related technologies sought after by employers, giving them unique qualifications and career prospects. 
How to apply 
The programme is targeted at students interested in computer science or in solving engineering and scientific problems by using supercomputers and high-performance computing. To be eligible, you should have a bachelor's degree or equivalent qualification in computer science, a relevant scientific or technical field, or mathematics. You should also have a knowledge of programming and be proficient in English. Check here for all the entry requirements and to apply.