'Follow-a-long' with coding karaoke
Publication date: September 30, 2020
By Dr. Steve Bunce, EU Codeweek representative from the UK
We have all have sung along to our favourite song. Maybe humming, singing or shouting the lyrics on karaoke. It is a great way to learn about words and music and how they work together. You can break the song into parts, you can see how lyrics are repeated and follow the patterns, to add another verse. Here's how the children began to follow-a-long karaoke-style.
'At first, I was afraid, I was petrified…'
Over the past years, I've been working in many schools across the UK. In fun and energetic sessions in classrooms, we learned with the Swift Playgrounds app. It uses 'blocks of text-based code' to introduces the language while reducing syntax errors and offering a huge coding library.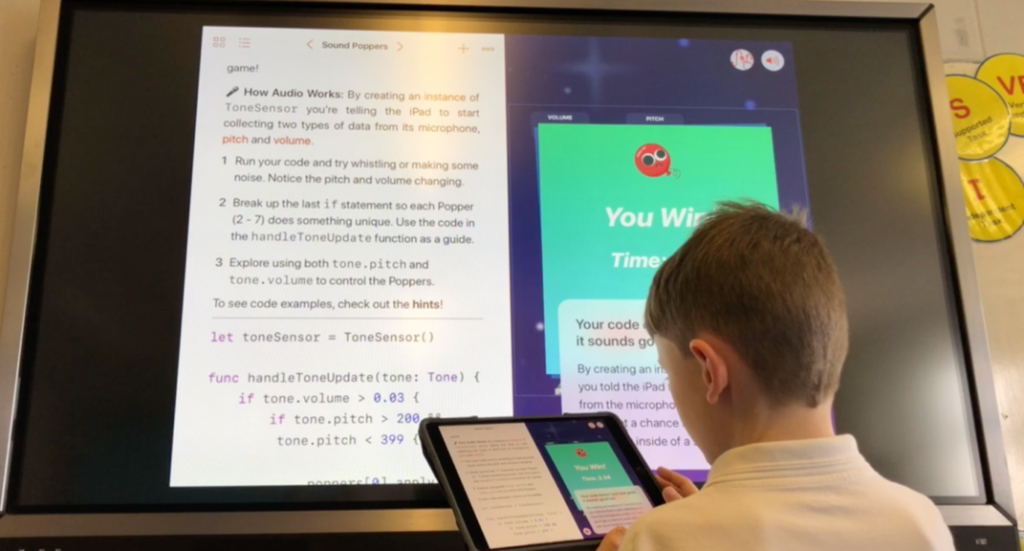 For Swift Playgrounds, there are two books available called 'Puzzles' and 'Adventures'. Each of these introduces computational thinking and coding concepts in fun ways. The children try activities, with and without technology, to gain an understanding of the fundamentals of coding.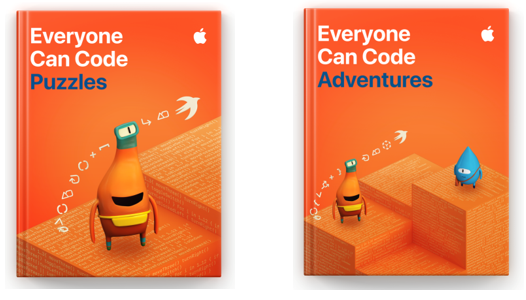 'Ladies and gentleman, this is the moment you've been waiting for…'
In the classroom, I observed the children needed something to help them develop as coders. In English lessons, we will have 'guided reading' time, where the teacher can guide the children through a text. What should we do with coding?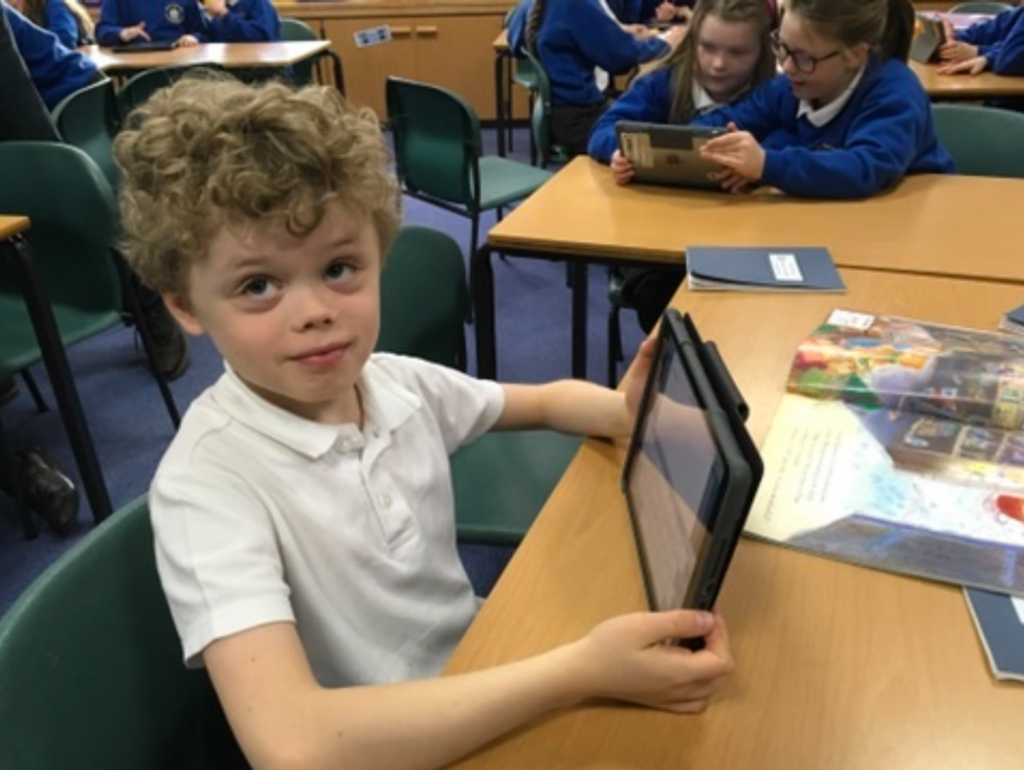 My own children were big fans of 'The Greatest Showman' film and loved to sing the songs. They shared with me that there was a 'Sing-a-long' version of the film so that everyone could join in and sing the songs. Now, I thought, wouldn't karaoke be great for coding?
We tried out the 'follow-a-long' in the classroom. I displayed the first part of code and asked them what should come next. They followed along, as we coded together. Once we had finished, we found that they were more able to trace the code and create something new.
'Please don't stop the music…'
Then came the lockdown due to the COVID pandemic. How would the children continue their coding performances? Matt Hanlon is a long-time software developer, mentor, teacher, coach and Dad, who runs 'The Code Hub', which aims to make coding accessible to all.
In April 2020, he started 'Learn App Development with kids.code()', where he demonstrated the coding process live, enabling the children to 'follow-a-long' too.
'It takes two, baby'
So, I'm thrilled to say that Matt and I have joined together to duet at EU Codeweek 2020.
During EU Codeweek, join us and schools from across Europe to 'follow-a-long'. Every day, we will be using the dance theme coupled with exemplar ideas from Apple 'A Quick Start to Code'.
Come along and learn computational thinking concepts and Swift coding through the highly-interactive sessions. Try out our 'unplugged' activities, for example, creating your own 'TikTok-style' dance routine.

Schools from across Europe will be joining the 'live stream', where Matt and Steve will answer live questions too! Come and see our dancing robot moving to an 'Ode to code'.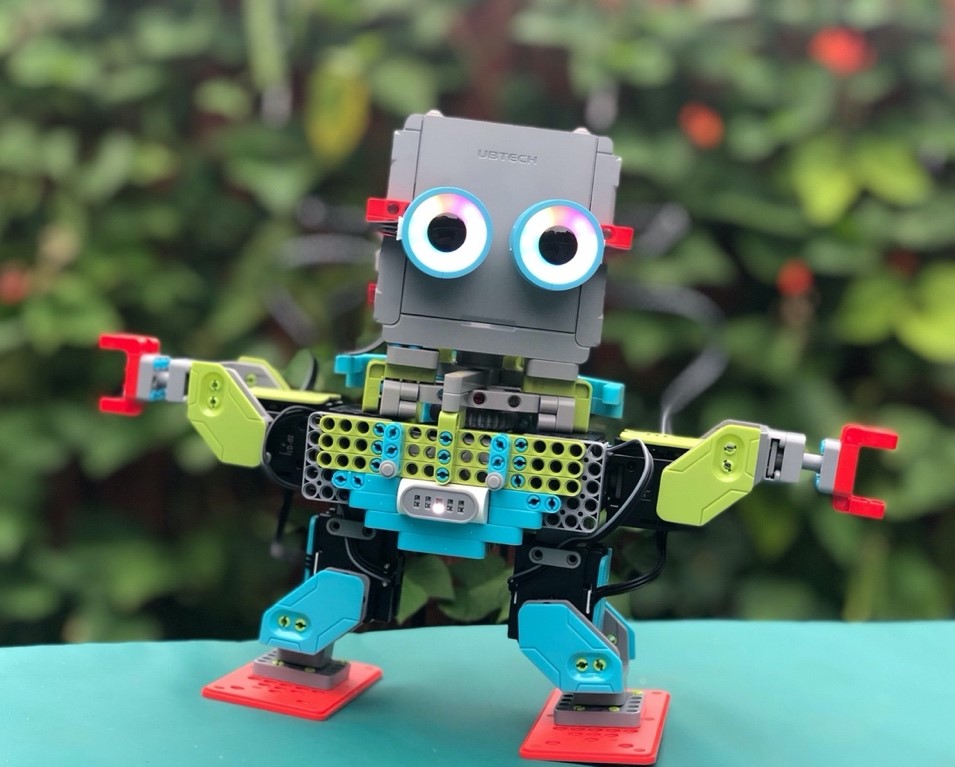 'It's the final countdown…'
'How to' session on 6th October, for teachers to hear how to prepare their classroom for the live streaming and also, get a sneak peek into the exact programme for each day.
Register here to join.
Daily sessions starting on Monday 12th October at 09:45 am (BST) and runs for 45 minutes.
The themes from the first week will be repeated in the second week, to allow everyone to join in.
Find out more at: https://www.thecodehub.ie/eu-code-week-2020/
The final countdown has begun, we cannot wait to get the 'follow-a-long' started!