Google supports Europe Code Week with localised resources in 20+ languages
Publication date: October 7, 2022
By Verónica Gebhardt, Program Manager, Google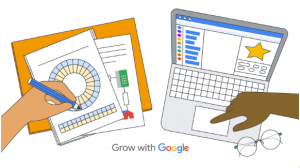 Studies show that 65% of children entering primary school today will wind up working in completely new job types that don't yet exist so it is critical that students get the technical skills necessary to help them prepare for the new economy. 
As set in the EU Commission's Path to the Digital Decade, progress in areas such as digital skills or supporting the digitization of businesses and other organisations will be key to building a more sustainable, inclusive, and digital future. Boosting computer science skills will be a key pillar of achieving this. Through our Grow With Google programmes and other initiatives, we want to help the next generation thrive in this digital era. 
As part of our ongoing support for Europe Code Week, this year we are offering two EU Code Week Challenges – coding activities that students (ages 9-14) or adult learners can do at home or in the classroom, on their own, or with classmates or friends. These activities provide an easy way for anyone to participate in Europe Code Week as no prior coding experience is required.
Animate A Name is a fun, easy-to-use introductory coding activity for teachers, students and parents. No coding experience is required and it's available in 22 languages (see links to localised resources below).
If your school or students don't have access to the Internet or a computer, we encourage you to try out CS First Unplugged – available in 19 languages (see links to localised resources below). This is a set of engaging activities that can be used completely offline without a computer or internet access to help students take their first step in learning about coding and how computer science can connect us to friends and families. You'll also learn about the experience of Google employees working in the tech industry.
We hope you have fun while completing our challenges and learning computer science!
Links to localised resources:
| | |
| --- | --- |
| Animate a Name | CS First Unplugged  |
| Activity available in below languages on YouTube playlist | Lesson plans & informational booklets available in below languages (links to Google Drive folders) |
| | |