How to get a Code Week Certificate for your activity
Publication date: October 25, 2021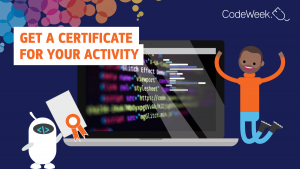 In order to receive your Code Week Certificate, you first need to report the activity.  
Don't worry, it's not a complicated process whatsoever. 
There are two options to start the activity reporting process: 
Follow the email link received after your activity has finished

(it will be in a follow-up Code Week email asking you to report your activity) 
Or: 
Go to your Code Week Profile and find the "Report your Activities" section
After this preliminary step, you will need to complete a form asking with the following fields: 
PARTICIPANT COUNT 

 

AVERAGE PARTICIPANT AGE

 

PERCENTAGE OF FEMALES

 

CODEWEEK FOR ALL PARTICIPATION CODE

 

NAME FOR CERTIFICATE

 
Make sure to double check that the information provided is correct because the form cannot be changed after submission! 
Once the activity report is submitted, you can find your certificate in the "My Certificates" section from your Code Week profile.  
Feel free to download or share your achievement!