Inspirational women: Anastasia Volkova
Publication date: March 17, 2022
The Ukrainian tech innovator who aims to revolutionize agriculture using satellite data and autonomous drone technology.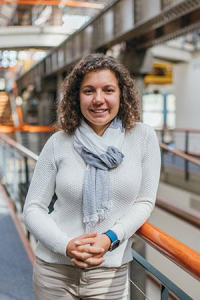 With a belief that the world can be a better place through smarter decisions, Anastasia uses her aerospace engineering background for real world applications impacting agriculture, environmentalism and the use of smart tech and machine learning.  
In terms of education, Anastasia can be considered an academic globetrotter, starting with undergraduate study in Kyiv, to a master's degree in Poland, and culminating with a doctorate obtained in Australia.  
In 2016, Anastasia founded FluroSat (now Regrow), with the aim to make agricultural science available to farmers worldwide. The idea behind her innovative solution kindled back home, when she took a closer look at the farm crop belonging to her grandfather.  
She realized that by collecting data from satellite cameras, overall crop health can be established. This type of insight can help tell if a crop is sick a week before the plants show any signs. Also, other factors can be measured, such as if a crop has too much or too little water, or if more nutrients are needed. This helps farmers use water and fertiliser more efficiently, and rescue crops that might be failing. 
Anastasia's work has been already recognized by major tech outlets worldwide, from being highlighted by the BBC as one of the top 100 influential women in 2020, to her contributions in tech being acknowledged by the MIT Technology Review Magazine.  
This March, Code Week pays homage to the women that have had and continue to have a big influence on the world of tech and computers. From inventors, to thinkers, to developers, to teachers, the world as we know it today wouldn't be the same without them.
Sources: 
https://www.linkedin.com/in/anastasiia-volkova      
https://en.wikipedia.org/wiki/Anastasia_Volkova 
https://www.industry.gov.au/australian-space-discovery-centre/people-in-the-space-sector/full-profile-dr-anastasia-volkova-ceo-and-co-founder-regrow 
https://www.crdc.com.au/making-it-top-supporting-start-innovation