Inspirational women: Angela Ruiz Robles
Publication date: March 15, 2022
A teacher who introduced her classroom to a mechanical version of the modern e-book. The year was 1949 when the first computers were the size of a living room.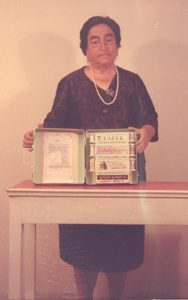 Angela Ruiz Robles was born in 1895. She started her teaching career early in 1915, at the same high school where she completed her higher education – the Teacher Training College of León. 
In 1918, Angela accepted a new position as a teacher in Santa Eugenia de Mandía, where she became known for her sincere desire to help her students even outside school hours, visiting students with special needs at home to provide additional support.  
Ten years later, in 1928, Angela moved to Ferol where she founded the Academia Elmaca, named after her three daughters: Elena, Elvira and Maria del Carmen. Wanting to help her community, she became the manager of Escuela Nacional de Niñas del Hospicio in 1934, an institution whose goal it was to help abandoned girls to integrate into society. 
A few years later, between 1938 and 1946, Angela wrote and edited about 16 books, three of which were published: "Compendium of Castilian Orthography", "Castilian Orthography" (abbreviated) and "Modern Abbreviated Martinian Shorthand". Also during that period, in 1944, Angela started her Scientific-Grammatical Atlas project, with the goal to teach Spanish grammar and make Spain better known across the world.  
Driven by her desire to help her students, she wanted to come up with something more interactive that would spark students' imaginations, while at the same time reducing the weight of the textbooks that they carried every day to school and back home again.  
An innate inventor, Angela came up with a device consisting of reels with text and illustrations mounted under a magnifier framed in glass and incorporating depictions of each topic. It also incorporated a light for reading in the dark. Called "Enciclopedia Mecánica", it was patented in 1949 and was considered to be the first mechanical predecessor of the electronic book.  
However, no funds were forthcoming to further develop her prototype and, 10 years after her first attempt, she filed a patent for a new device to be used when reading and revising, using rolls of film, which could be changed depending on the subject. Yet again, her invention failed to receive funding for further development, although it raised interest across the ocean in the United States. 
Angela Ruiz died in 1975, but her achievements were acknowledged in 2013, when the Spanish Ministry of Education and the Ministry of Economy published a book on Ángela Ruiz Robles and her invention of the electronic book 
Next time when you read something on your e-book, think about the fact that it all began with an idea from a teacher who loved her job and loved introducing new things to her pupils.  
______________________________________________ 
This March, Code Week pays homage to the women that have had and continue to have a big influence on the world of tech and computers. From inventors, to thinkers, to developers, to teachers, the world as we know it today wouldn't be the same without them.
Sources: 
https://en.wikipedia.org/wiki/%C3%81ngela_Ruiz_Robles 
https://history-computer.com/angela-ruiz-robles-complete-biography/ 
https://www.salientwomen.com/2020/06/01/biography-of-angela-ruiz-spanish-inventor-scientist/