Inspirational women: Vera Molnár
Publication date: April 20, 2022
Born 1929 in Budapest, Hungary, artist and pioneer Vera Molnár, also known as 'grand dame of digital art', has been the first women artist to use computers as a medium in art practice, inspiring generations to come with her innovative approaches.
Molnár was trained as a traditional artist, studying painting, aesthetics and art history at Budapest College of Fine Arts. After moving to Paris in 1947, she began experimenting with minimal, non-objective patterns and compositions by hand.
Later, she defined the 'machine imaginaire', that had the ability to create (a series of) images based on predetermined compositional rules, thereby laying the foundations for algorithmic artwork based on aesthetic principles.
In 1960, Molnár co-founded the Research Group for Visual Art ('Groupe de Recherche d'art Visuel; short: 'G.R.A.V.'), a group that investigates collaborative approaches to mechanical and kinetic art using geometric forms.
A central momentum in Molnár's artistic career was gaining access to a computer in a Parisian research lab in 1968. In her art practice, computers were the main artistic medium ever since. She began using software as a means to create complex variable patterns and sequences, adjusting forms, lines, and color values. It allowed her to explore endless variations of her artworks.
A milestone was the development of the software 'MolnArt' by herself and her husband, written using the programming language FORTRAN. It allows for 'systematic pictoral experimenting' (FR: 'expérimentation picturale systématique').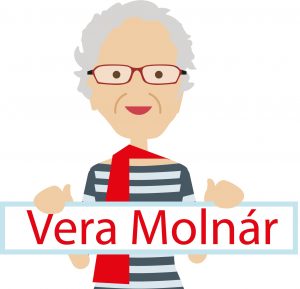 I make sketches and they create geometric sections. Paradoxically, it's better; it's closer to what I imagine.
According to Molnár, computer art can compensate for human limitations such as lack of time and visual acuteness, when it comes to representing thoughts adequately.
Molnár's work was presented in various notable exhibitions, for instance at MOMA in New York, Grand-Palais in Paris and Victoria & Albert Museum in London. Her work has been awarded many times: For instance, she the first recipient of the D.velop Digital Art Award in 2005, was appointed Chevalier of Arts and Letters in 2005, and received the Republic of Hungary's Order of Merit in 2011.
Sources
Vera Molnar | Artist Bio and Art for Sale | Artspace
Vera Molnar—Machine Imaginaire – HOLO
Vera Molnar | Hyper transformation | Siebdruck zu verkaufen | composition.gallery
Vera Molnar (skkd-ingolstadt.de)