Ireland Code Week Hackathon 2023: Fostering Innovation and Collaboration
Publication date: October 9, 2023
Ireland Code Week Hackathon 2023, held on 25-27 September, was a resounding success, promoting creativity, problem-solving, and collaboration among transition year students in the Irish educational system. Organised as part of EU Code Week, this event aimed to make programming more accessible and engaging for young minds, while also addressing real-world challenges. Let's take a look at the highlights and outcomes of this exciting hackathon. 
This hackathon brought together 28 talented students from four schools across Ireland, forming six dynamic teams. These students displayed their prowess in STEM, computer science, design, engineering, ICT, and related fields. The event encouraged not only technical competencies but also functional skills, ensuring a holistic approach to problem solving. 
The Challenge
Participants faced an exciting twist: the challenge was unveiled on the first day of the hackathon, requiring teams to design, develop, and implement solutions to real-world problems. This element of surprise added an extra layer of excitement and creativity to the event.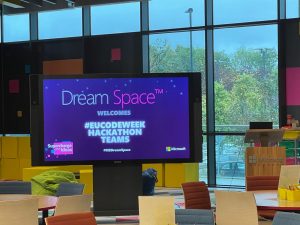 The Winners
The winners of the Ireland Code Week Hackathon 2023 were: 
1st place: Team 1 from

Colaiste Mhuire

with their

Cabhrú

idea

 

2nd place: Team from

St. Marks Community School

with their

Bowie

idea

 

3rd place: Team 2 from

Colaiste Mhuire

with their

EduBridge

idea

 
In fact, these teams demonstrated exceptional creativity and problem-solving skills in addressing the challenge, earning their well-deserved recognition.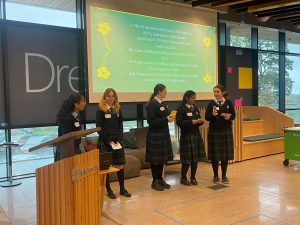 Hybrid Success
The hackathon was conducted in a hybrid format, with online activities on Monday and Tuesday, culminating in in-person pitching at the Microsoft Dream Space on Wednesday. This format allowed students ample time to work on their ideas and collaborate effectively. It was heartening to witness the dedication and determination of the participants as they fine-tuned their projects right up to the deadline. 
In addition, the event boasted an impressive line-up of mentors who provided invaluable guidance and support to the student teams. For instance, workshops on design and pitching further enriched the participants' skill set, equipping them with the tools necessary to present their ideas effectively. 
Moreover, a panel of three judges had the challenging task of selecting the winners, considering the innovation, feasibility, and presentation of each project. Certainly, the hackathon was made possible through the support of major tech companies such as Microsoft, Google, and Apple, who played an essential role in bringing this event to life.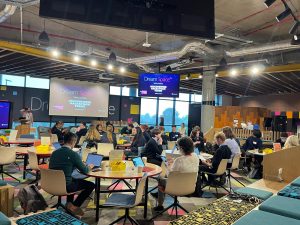 Future Prospects
The engagement and enthusiasm exhibited by the participating students and teachers were remarkable. Both participants and educators expressed their eagerness to participate in hackathons in the future. This enthusiasm bodes well for the continued growth of STEM education and innovation in Ireland.