MOOC Unlocking the Power of AI in Education Live Events
Publication date: March 13, 2023
The new EU Code Week MOOC Unlocking the Power of AI in Education has just started! Sign up if you still haven't and find different materials, resources, ideas, engaging lesson plans and cutting-edge AI tools and technologies for supporting teaching, learning and assessment. 
MOOC registration: https://bit.ly/UnlockingAI_MOOC 
Dates: March 13 – April 19, 2023 
MOOC Road Map https://bit.ly/UnlockingAI_Roadmap 
#CodeWeekUnlockingAI
#UnlockingAI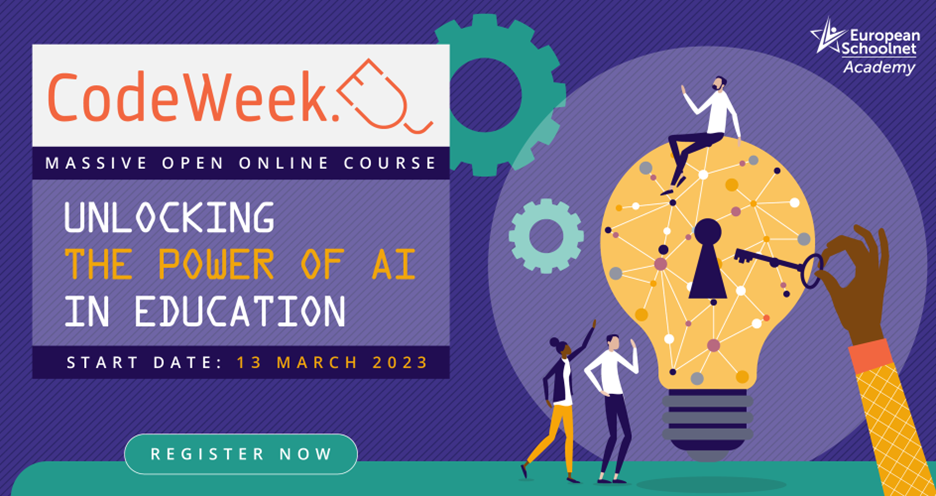 As part of the MOOC we will be organizing three live events: 
Week 1: 
Live chat
Title: Unlocking AI in European Classrooms
Date: Tuesday, 14 March, 17:00 CET
EU Code Week Leading Teachers Margot Schubert, Hermann Morgenbesser and Guillermo Medrano will be sharing practical ideas and examples of best practice on how they use AI tools and technologies in their classrooms to support their students and to enhance teaching and learning. 
Week 3 
Live session:
Title: Educational Use of AI and Data: Myth or Reality
Date: Monday, 27 March, 17:00 CEST
AI experts Lidija Kralj and Marco Neves will discuss the educational use of AI and data and how it can help enhance teaching, learning and assessment practices.
They will give insight on the ethical implications, benefits and risks of using AI and educational data in schools and classrooms.
Week 4 
Live lesson
Title: Using AI to animate the classroom
Date: Tuesday, 4 April, 17:00 CEST
During this practical live lesson with expert Johan Strömberg, we will explore Fabella Creator, a no code authoring and programming tool to allow the creation of lessons that include audio, branching, visuals, and more.  You will get hands-on experience with the tool to get a look and feel of how you can utilize visual scripting in your teaching. 
Register for the MOOC and join us for the live events to learn how to bring innovative practices into your classroom safely and responsibly.