Navigating Innovative Technologies across the Curriculum with an EU Code Week MOOC
Publication date: October 17, 2023
In today's rapidly evolving world, technology plays a pivotal role in shaping education. As educators, it's essential to stay updated with the latest trends and incorporate innovative teaching methods into the classroom. EU Code Week brings you an exciting opportunity to do just that with its MOOC (Massive Open Online Course) titled "Navigating Innovative Technologies across the Curriculum." In this blog post, we'll dive into the details of this MOOC, which promises to revolutionise the way you teach and engage your students.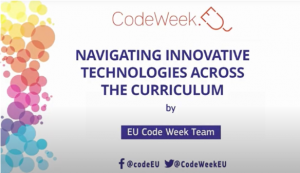 This EU Code Week MOOC aims to go beyond the traditional boundaries of computer science education. It focuses on integrating coding skills, computational thinking, and problem-solving techniques into various subjects, such as languages, arts, STEM subjects, social studies, and even physical education. By embracing innovative technologies, such as augmented and virtual reality, this course will help you create immersive learning experiences that will captivate your students' imagination and boost their engagement. 
We asked some Study Group Leaders and already registered course participants why they enrolled and what they are most looking forward to from the course. "I hope to discover inspiring educational experiences and new tools to continue exploring the educational possibilities that digital technologies bring us," said Francisco Delgado Sicilia. 
Key info 
Course dates: 9 October – 25 November 2023 
Estimated effort: 4 hours per module (16 hours in total) 
How to register: enrol here. 
Maria Giovanna Battaglia enrolled because she loves being innovative in education. "My goal is to transform my classroom into a lively and engaging laboratory, and this course is my ticket to do so," she said, 
Blended learning approach
This MOOC adopts a blended learning approach, combining online modules with onsite study groups. It encourages collaborative learning and offers the flexibility to follow the course at your own pace. It will also give you the opportunity to join a vibrant community of educators from EU Code Week and beyond. You will also be able to participate in meaningful discussions, experiment with new tools and resources, and bring fresh learning opportunities to your classroom. 
"Enrolling in this course is an opportunity for every teacher to re-shape education, create a new way of thinking and prepare their students for the digital era," said course participant Maria Tsapara. 
Also, "This MOOC is a great opportunity for professional growth. I love meeting colleagues all over Europe who want to improve their teaching practices as myself. The energy around this course is very positive and motivating." states Perica Vulić Vočanec. 
By the end of the course, you will: 
Understand EU Code Week and the opportunities it offers;

 

Integrate coding, programming, and computational thinking into your teaching;

 

Explore interdisciplinary ways to incorporate coding across the curriculum;

 

Gain a comprehensive understanding of virtual and augmented technologies;

 

Design immersive learning experiences for your students.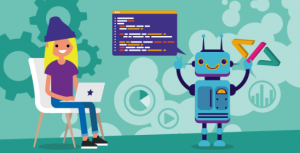 Open to all
This course is open to all educators, regardless of your experience or the subject you teach. What's more, no previous knowledge is required. 
The MOOC is divided into four modules, each building upon the last: 
Module 1: The Power of Code across the Curriculum (opens on 09/10/2023)

 

Module 2: App Development Decoded (opens on 16/10/2023)

 
Module 3: Coding Immersive Experiences (opens on 23/10/2023)

 

Module 4: Cracking the Code to the Future (opens on 30/10/2023)

 
To receive a course certificate, participants must complete a learning activity and review activities from three of their peers. The passing grade is set at 95%, and all activities must be completed by Wednesday, 15 November, 23:59 CET. 
Are you ready to embark on a transformative journey in education? Enrol now in the "Navigating Innovative Technologies across the Curriculum" MOOC. To stay up to date on this and other learning opportunities, make sure to join us in the EU Code Week Teachers Facebook group and share your thoughts on Twitter using the hashtag #CodeWeekNavigatingTech. For more information, see here.