EU Code Week brings a new open online course on AI basics for schools
Publication date: January 19, 2021
When the term Artificial Intelligence (AI) is mentioned, many of us will immediately think of science fiction novels, movies and powerful computers and robots that surpass human intelligence. However, even though we may not always recognize it, AI has already become an important part of our everyday lives. AI is used in many areas of human activity that we often take for granted: search engines and recommendations, face detection and emotion recognition, security systems, voice assistants and chatbots, plagiarism checkers and many others.
So what is Artificial Intelligence anyway?
AI is often defined as a computer system able to perform intelligent tasks that are usually associated with human beings, such as learning, problem-solving, decision-making and creating. AI refers to systems that apply intelligent behaviour in order to solve problems. AI technologies perform these tasks by constantly learning through experience, by analysing large amounts of data and by making predictions and decisions. Advancements in machine learning, natural language processing and the availability of large amounts of data have made AI the major technological revolution of our time. AI is becoming more and more pervasive in our lives, yet little about it is taught in schools. That's why we invite you to join us for our new open online course (MOOC) 'AI Basics for Schools' to learn about the potentials and limitations of AI and discover how AI may enable you to implement new ways of teaching and learning in your classroom.
What is AI Basics for Schools?
AI Basics for Schools is a new EU Code Week MOOC (Massive Open Online Course) that will provide you with an excellent opportunity to gain a basic understanding of AI and its potentials and challenges. You will learn how to integrate AI resources into your teaching in order to enhance the student learning experience. The course will raise awareness of the importance of integrating AI into everyday teaching practices to help you prepare your students for life and career in a world shaped by AI.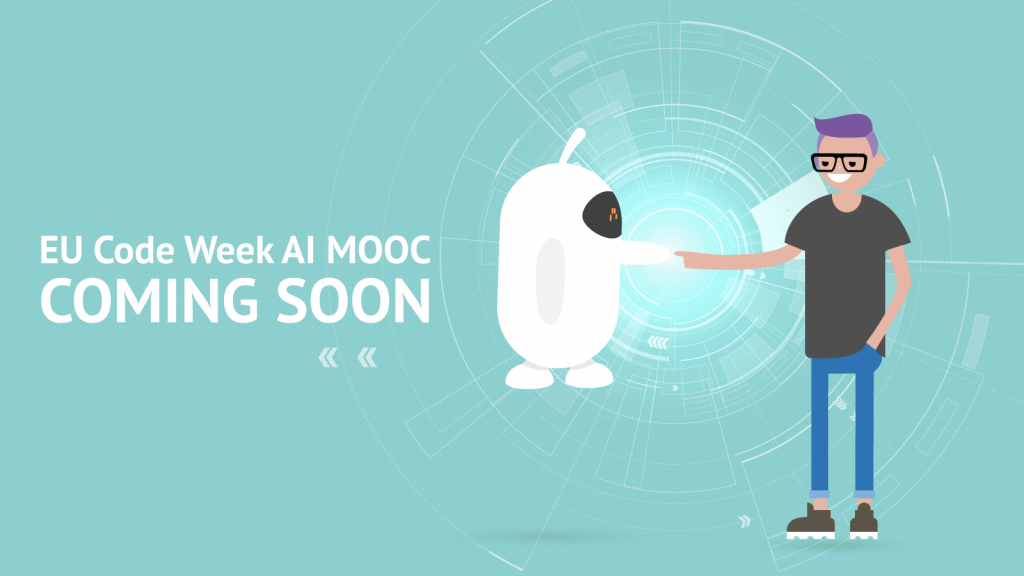 What will you learn?
This three-module course will guide you through the basic elements of Artificial Intelligence. You will learn how to define AI, look at the ways it is already used in our everyday lives and explore the opportunities and challenges of AI for teaching and learning. You will explore resources that will enable you to support student learning and at the same time enable your students to creatively use AI to help others and to solve problems. You will discover machine learning-related activities that can easily be implemented in different learning environments: fully online, hybrid/blended and a physically distanced classroom. You will examine ethical issues behind Artificial Intelligence and learn how to help your students unlock its potential.
Who is it for, and do I need previous experience to participate?
The 'AI Basics for Schools' MOOC is aimed at primary and secondary school teachers, regardless of the subject they teach. It is not necessary to have previous experience or knowledge about Artificial Intelligence to participate in this course. Everyone is welcome to learn and explore.
How will you learn?
The course is organised around the principle of peer learning, meaning you can learn from each other's experiences and ideas and engage in discussions with the other participants. You will be provided with free training materials and resources about AI, while the ready-made lessons plans will support you in implementing the activities in your classroom. Several live events will be organized during the course to help you use AI resources in the classroom.
The AI Basics for School course will lead you through 3 modules that can be followed at any time starting from 8 March 2021. The course will take an estimated 15 hours to complete, with the flexibility to complete the modules at your own pace.
Stay tuned for more information about the course, we will soon launch the registration page!