Pop it and coding! 
Publication date: November 16, 2021
By Sandrine Khorn, primary school teacher at Ecole des Révoires. Monaco. 
I'm a schoolteacher and a trainer specialized in digital skills and coding. I work at Ecole des Révoires, a primary school in Monaco. My students are between 10 and 11 years old. 
In Monaco, under the initiative of HSH Prince Albert the Second, coding is a real part of school curricula. Every pupil enrolled in a Monegasque school from kindergarten to high school, receives an hour a week of coding lessons.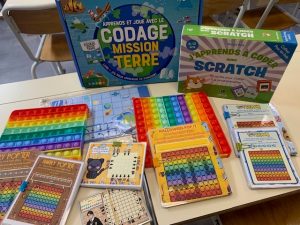 This means we have many resources and means available like computers, tablets, robots, activity mats. We also have a lot of training and it's a way to show the increase of our pupils' skills and that teaching how to code is fun and not so difficult.  
But, during EU Code Week, I brought something new to these lessons: an unplugged activity. 
Pop It is a multi-coloured silicone bubble tray that can be popped endlessly, and all my pupils really enjoy them. It is a very trendy toy this year, like a modern version of bubble wrap that snaps under your fingers. 
As it looks like a grid pattern, it gave me the idea to design coding activities where you have to code a path or where you already have a coded path, and you have to develop the different steps. It's a simple activity that allows students to independently review (thanks to a planned autocorrection) how to code a movement.  
In the classroom, there is a spot specially dedicated to coding activities where pupils can go to pick up a pouch that contains a Pop It and a series of activities. This idea is very easy to set up because it does not require a lot of materials and the pupils can work and correct themselves without any help from the adult. 
We also organised a bigger event with all the same level classes. As we have a recent endowment of augmented reality activity mats, we decided to use them with Blue Bots. The goal of this activity was to use robots to help humans take care of our Earth.  
Every time we have coding lessons, the pupils get involved and very enthusiastic. They all work together and help each other. For them, it's a fun time and they don't want the activities to stop.