SPACE TOUR
Publication date: November 1, 2021
By Martina Galić, IT teacher at Primary school Bol, Split. Croatia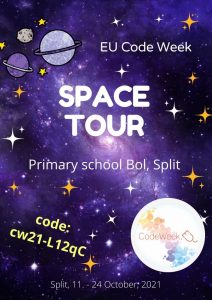 I am a math and IT teacher at Primary school Bol, Split in Croatia. After many years, I have a class again to teach IT. This is my first year attending EU Code Week. I decided to apply because coding helps develop 21st century skills like coding, numerical thinking, problem solving, creativity and teamwork. 
My pupils are 10 years old. They are very curious and always ready for new challenges. 
In the context of World Space Week, I designed three activities for my pupils. We did the first two activities in Scratch. The names of our activities were "Dog Lost in Space" and "Discovering a New Planet". 
In the first activity, pupils discover different movements in Scratch. A rocket gliding toward Earth, a bright star, a spinning planet, a rock moving in space, a spinning dog.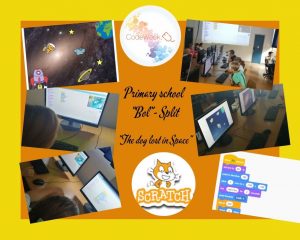 In the second activity, pupils discovered the environment of the Scratch tool and created a short, animated conversation. The characters were in a spaceship, and they moved to a fictional planet where the conversation with the inhabitant of the planet continues. After the conversation, the characters return to the spaceship.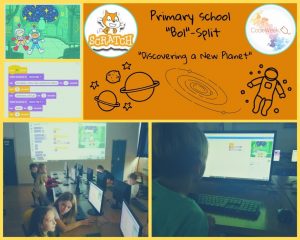 Through these activities, pupils developed their creativity and computer skills. 
We did the third activity at https://studio.code.org/courses. During this activity, kids of all ages gain introductory experience with coding and computer science in a secure and supportive environment. This lesson is intended for children of all ages, but requires reading and sound, because the tool is made to respond to music.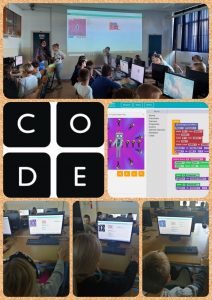 These were difficult but also fun tasks. The pupils were satisfied with what they learned and asked for additional tasks. 
I posted the code of my event on the Facebook group EU Code Week Teachers to be joined by more teachers and pupils from different countries because the essence of everything is to spread and exchange ideas so that as many kids as possible are involved in coding, programming, problem solving activities. In the end, I was surprised with the number of people who applied, and everyone had a lot of fun. All our activities can be found on Padlet https://padlet.com/martinabanovac/Bookmarks. 
It was a pleasure to participate in this event, and that we had the opportunity to collaborate and exchange ideas with colleagues and pupils from other countries.