Unlock the Power of AI in Education: A must-join MOOC for educators
Publication date: February 7, 2023
Artificial Intelligence (AI) is revolutionising the way we live and work, and education is no exception. As AI continues to make significant inroads into the world of education, it is imperative that educators stay abreast of advances and understand how to effectively integrate AI into their teaching practice. This is where the EU Code Week MOOC "Unlocking the Power of AI in Education" comes in!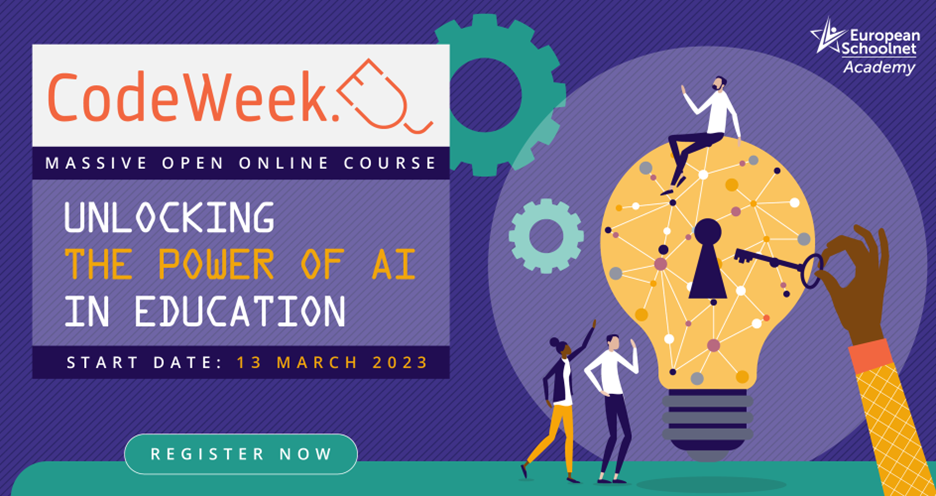 Unlocking the Power of AI is a new EU Code Week MOOC that aims to provide teachers with a basic understanding of AI and its potential and challenges in education. Through the four modules of the MOOC, we will examine AI resources, tools and technologies that can be safely implemented in your daily teaching practice to enhance teaching and learning. 
Organized by our partner European Schoolnet, this MOOC is designed to equip educators across Europe with the knowledge and skills they need to harness the power of AI in their classrooms. Whether you're a seasoned educator or a newcomer to the field, this MOOC offers something for everyone. You'll learn the basics of AI, gain an understanding of how educational data is collected and used, and develop hands-on AI-related activities to implement in your classroom. 
The MOOC is open to anyone interested in the use of AI in education, but is specifically designed for educators, as well as parents with an interest in the subject. You'll be able to join other educators from across Europe, sharing best practices and engaging in meaningful discussions about the potential and challenges of AI in education. 
With a weekly commitment of just 4  hours and a total workload of 16 hours, this MOOC is both accessible and comprehensive. It starts on 13 March and ends on 19 April, giving you plenty of time to fit it into your busy schedule. The course is taught in English and is designed to help you build teacher competences related to AI literacy, and to ensure that the use of AI in education is inclusive and equitable for all. 
The EU Code Week MOOC "Unlocking the Power of AI in Education" is a must-join event for educators and anyone interested in the future of education. Don't miss this opportunity to gain the knowledge and skills you need to transform your teaching practice with AI.  
Register today in the link here and start unlocking the power of AI in education!