Using Scratch to get familiar with Bebras – international informatics and computational thinking challenge
Publication date: October 24, 2021
By Tanya Andonova, Founder of Kinder Coder. Bulgaria
Kinder Coder is a small programming club for kids, created and developed with great passion. I am Tanya and I am its founder and main trainer. I try to explore and develop creative ways to ensure conditions for children to make their first steps in the world of coding and computational thinking in an easy and funny way.
The club is in Plovdiv, Bulgaria and it is the second time we participate, always with the aim to is ignite kid's interest and passion for digital skills. This year our Code Week open activity took place in the local Community centre and its participants were a small group of children aged between 6 and 9 years.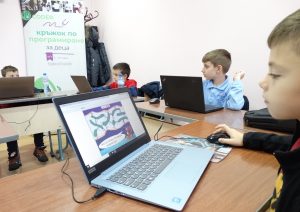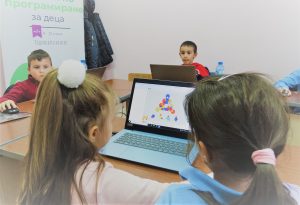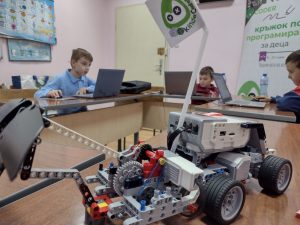 Our event was named "Introduction of Bebras – informatics and computational thinking challenge". From over 60 countries in Europe and the world, Bulgaria has one of the lowest numbers for participation in this competition. That's why my choice was to dedicate Code Week event to Bebras.
In the first part of our activity kids found out about the competition. Process of getting know included a power point presentation for Bebras: history, participating countries, terms and conditions of the challenge.  After that came practical part: solving logical problems typically used in Bebras. We made it through specially created for the purpose Scratch Studio. We used our favourite Scratch to visualize the tasks. The mighty and favourite programming language was a great helper to illustrate and give an animated effect to several tasks. Children spent some minutes of cogitation and immerse themselves in the world of mathematical thinking and logic. Thanks to few projects based on Bebras tasks kids discovered another application of the superpowers of programming with Scratch. At the same time, they spent a fun hour solving logical puzzles and riddles. At the end as a reward for the effort and good answered tasks we played with a Lego EV3 robot.