Want to cheer yourself up? Get EU Code Week certified!
Publication date: June 20, 2023
EU Code Week is an exciting initiative that aims to bring coding and digital literacy to people of all ages across Europe. As an active member of the EU Code Week community, you have the opportunity to earn various certificates that recognise your contributions and achievements. In this blog post, we take a look at the different certificates available and how you can obtain them.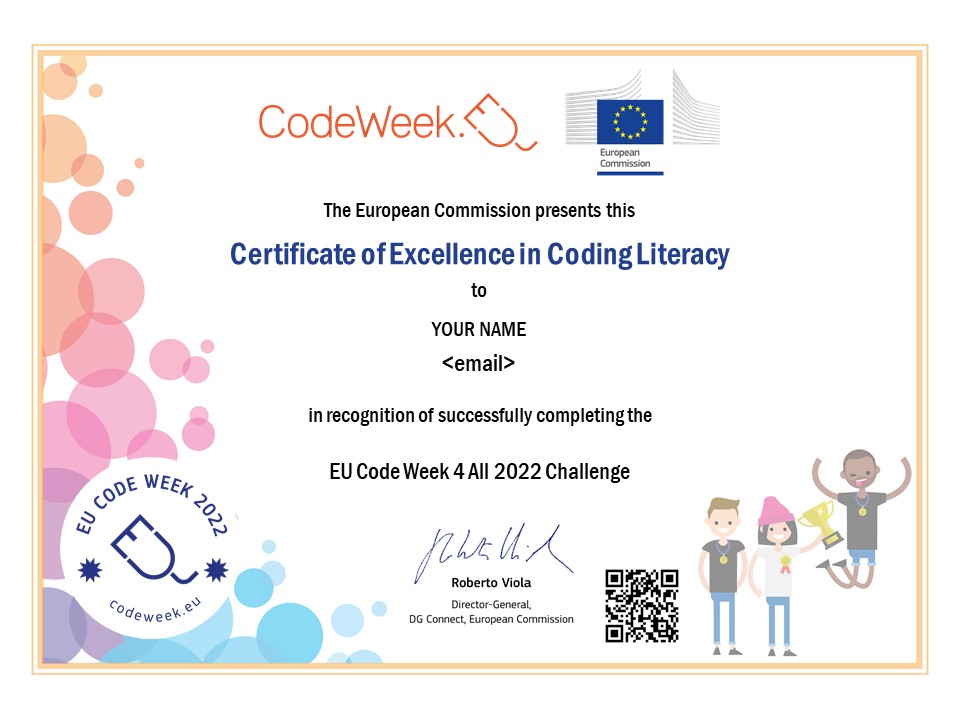 1. Certificate of Recognition
The Certificate of Recognition is awarded to individuals who report their Code Week activity. To initiate the reporting process, you will receive an email after completing your activity, which will contain a link to report your activity. Alternatively, you can visit your Code Week Profile and find the "Report your Activities" section. Fill out the required fields, including participant count, average participant age, percentage of females, Code Week for All participation code, and the name for the certificate. Once submitted, you can access and download your Certificate of Recognition from the "My Certificates" section of your Code Week profile.
2. Certificate of Participation
By participating in an EU Code Week activity, you can also receive a Certificate of Participation. To obtain this certificate, register your participation and generate Certificates of Participation for your class. This certificate acknowledges your active involvement in the Code Week initiative.
3. Certificate of Excellence (Code Week 4 All Challenge)
The Code Week 4 All Challenge encourages collaboration and networking within the EU Code Week community. By linking your activities with those organised by friends, colleagues, or acquaintances, you can collectively earn a Certificate of Excellence. To achieve this certificate, you need to meet one of the following criteria: link 10 activities from 10 different organisers or involve at least 3 countries in your collaborative efforts.
4. Super Organiser Certificate
If you possess exceptional organisational skills and a passion for spreading coding knowledge, you have the opportunity to earn a Super Organiser Certificate. To qualify for this certificate, you must organise and register at least 10 separate activities at your school, organisation, or online. This certificate recognises your dedication and commitment to promoting coding education.
5. Certificate of Completion (European MOOCs)
As part of the EU Code Week community, you can also earn a Certificate of Completion for successfully completing one of the European MOOCs (Massive Open Online Courses). These courses offer valuable learning opportunities and cover various topics related to coding and digital literacy. Upon finishing a MOOC, you will receive a certificate that validates your new skills and knowledge.
Being an active member of the EU Code Week community offers several opportunities to earn recognition for your efforts and contributions. Whether it's through reporting activities, participating in events, engaging in collaborative projects, organising multiple activities, or completing European MOOCs, each certificate serves as a testament to your dedication to promoting coding and digital literacy. By obtaining these certificates, you can proudly showcase and share your achievements on social media to inspire others to join the EU Code Week movement. So, go ahead and embrace the diverse certificates available, and let your passion for coding shine!