What can EU Code Week do for you?
Publication date: September 27, 2023
EU Code Week celebrates the power of coding and digital literacy all year round. It's not just for students; it's in fact a fantastic opportunity for teachers at all levels of education to enhance their teaching methods, engage students, and foster digital skills. In this blog post, we'll explore what Code Week can do for teachers at all school levels.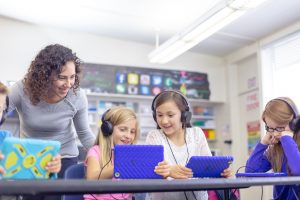 Introducing kids to coding
Firstly, for elementary school teachers, Code Week offers a unique chance to introduce coding and computational thinking to young minds. Here are some ways you can get coding into your classroom: 
Preparing pupils for the Digital Age
Secondly, middle school is a critical time for students to develop their digital literacy skills. The resources that Code Week makes available can be a game-changer for middle school teachers: 
College and Career Readiness
Finally, high school teachers face the challenge of preparing students for higher education and the workforce. Code Week equips them with the tools they need: 
Advanced programming: High school students can explore more complex programming languages like Python and JavaScript during Code Week. This knowledge is invaluable for college and future careers. Check out this Code Week Learning Bit on

creative coding with Python

to begin with.

Coding competitions: Many high school students thrive in coding competitions. Code Week provides opportunities for them to hone their coding skills with Code Week

Challenges

, these skills can then be put to use in various coding contests, fostering healthy competition and skill development.

College applications: Coding skills look impressive on college applications, whether students are applying to computer science programmes or not. It sets them apart and demonstrates problem-solving abilities.

Career pathways: Code Week introduces students to various career pathways in technology. Teachers can invite guest speakers or organize field trips to tech companies, giving students a taste of potential careers. Check out this podcast on

raising the next generation of coding professionals

.
In conclusion, EU Code Week is not just an event; it's an opportunity for teachers to transform their classrooms and empower students with essential digital skills. Whether you teach in elementary, middle school, or high school, Code Week provides resources, support, and inspiration to help you prepare students for success in the digital age. So, dive in, explore, and embrace the world of coding with EU Code Week – it's a journey that will benefit both you and your students.