Bringing like-minded people together to mainstream coding
Publication date: May 18, 2023
Ambassador Bernadette Zerafa talks about her Code Week experience 
Meet Bernadette Zerafa, the EU Code Week Ambassador for Malta, who has been serving as an ambassador since 2016. In this interview, Bernadette discusses the history and evolution of the EU Code Week initiative and her role as an ambassador. She also shares some memorable experiences and challenges she faced while organizing events and activities for EU Code Week. 
EU Code Week is a grassroots initiative that aims to promote collaboration, creativity, and problem-solving skills through computer programming and other tech-related activities.
The purpose of Code Week is to increase awareness of programming and coding, teach young adults and the elderly how to bring ideas to life with code in a fun way, and bring together young and motivated individuals to prepare for the future world of tomorrow. 
Pivotal role for EU Code Week
Bernadette was inspired to become an EU Code Week ambassador in 2014 when the eSkills Malta Foundation was founded. The Foundation is the Maltese National Coalition, made up of various representatives from government, industry, and education, who can contribute to the increase in digital skills and the development of the IT profession.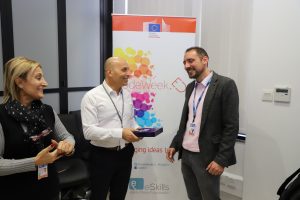 The Foundation's mandate included EU Code Week, so Bernadette was given the responsibility of serving as the Code Week Ambassador. She values this role greatly and sees it as being pivotal in coordinating and cooperating with all stakeholders throughout the entire year rather than just two weeks in October. 
Bernadette has organized various events and activities for EU Code Week that aim to reach a wide range of people, including children, women, retirees, students, persons with disabilities, and the unemployed. These sessions range from robotics to unplugged coding sessions and much more.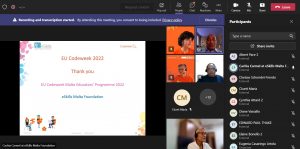 Through EU Code Week, Bernadette believes that like-minded individuals can come together to mainstream coding, computational thinking, and digital literacy in educational settings and foster new ideas. The impact of EU Code Week has been incredible, with the number of coding events steadily rising from 3179 events in 2014 to an increase of 77638 in 2022. 
While organizing events and activities for EU Code Week, Bernadette faced some challenges, including getting additional stakeholders from every area of society on board. However, with more stakeholders involved each year, the challenge is currently under control.
Bernadette suggests that the success of EU Code Week depends on education and information, and overcoming obstacles could be achieved by constant marketing and advertising, educating people about EU Code Week and its priceless advantages, and sharing information about it constantly. 
Looking to the future
Regarding future improvements for EU Code Week, Bernadette believes that collaborating with more universities and organizations to advertise the event and increase attendance could help reach new nations and areas. Furthermore, events could use more inclusive and diverse material, such as workshops and activities that are appropriate for people of various ages, genders, and backgrounds.
During EU Code Week, a stronger focus on experiential learning opportunities, including more hackathons and coding contests, could be beneficial.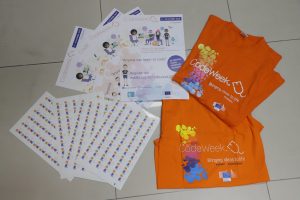 For anyone interested in becoming an EU Code Week ambassador or getting involved in coding and programming education, Bernadette suggests beginning by understanding the basic fundamentals of programming and coding using free online resources.
Additionally, providing assistance at programming and coding activities could enable one to gain practical experience dealing with students and enhance their abilities. 
Bernadette's dedication and passion for promoting coding and programming education through EU Code Week are admirable. Through her role as an ambassador, she has helped bring people together, increase awareness of programming and coding, and foster new ideas. The success of EU Code Week would not be possible without the tireless efforts of ambassadors like Bernadette.