EU Code Week's impact lives in community building
Publication date: June 13, 2023
Ambassadors Cristiana Lucaci and Stefania Ioana Chiorean talk about their Code Week experience 
Meet Cristiana Lucaci and Stefania Ioana Chiorean, two ambassadors of the EU Code Week initiative. Cristiana is a Senior Cloud Solution Architect at Microsoft, and Stefania is an engineer manager with over 13 years of experience in tech. Both are passionate about digital education, inclusiveness, and empowering young people's development. In this blog post, they share their experiences and insights as ambassadors for EU Code Week.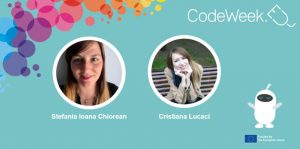 EU Code Week is a grassroots initiative that aims to bring coding and digital education to as many people as possible. The programme has evolved over the years, growing in size and influence. Today, it includes a group of ambassadors, leading teachers, and collaborations with various institutions. 
Cristiana and Stefania were both inspired to become ambassadors to drive change in how digitalisation is implemented in schools, non-profits, and associations. In Romania, there is a strong need for digital education, especially in disadvantaged communities, and they see EU Code Week as a differentiator in raising awareness on this topic. They believe that growing future generations with digital skills will bring success in all fields. 
One of Cristiana's most memorable experiences was her first meeting with the EU Code Week ambassadors in Brussels. It made her realise how different perspectives can help shape the way EU Code Week is conducted and promoted in different countries. Stefania also cherishes the connections she has made with other ambassadors and leading teachers, supporting and inspiring each other. 
The challenge to organise events
During EU Code Week, ambassadors typically organise and participate in various activities and events that promote coding and programming education. However, as volunteers, they prioritise empowering event organisers to create meaningful events that cover new technologies and skills. 
One of the challenges that ambassadors face is encouraging event organisers to be creative and implement new ideas to stay up-to-date with technological trends. To overcome this challenge, they bring forward unique events to inspire others. 
Building Community
EU Code Week's impact lies in community building. Year over year, more and more event organisers join the initiative, and the programme continues to create resources such as webinars, training of trainers, challenges, and more. EU Code Week needs to keep digitalisation as a priority in education and is working towards that goal. 
As volunteers, ambassadors face challenges in triaging events and replying to queries in a timely manner. They prioritise events that make a significant impact and meaningful contributions. However, despite the challenges, the passion for digital education and empowering future generations drives them to continue their work as ambassadors for EU Code Week. 
EU Code Week is a fantastic initiative that brings people together to promote coding and programming education. With the support of ambassadors like Cristiana and Stefania, the programme has continued to evolve and grow in size and influence. Both Cristiana and Stefania believe that technology is the main channel to achieve success and that passion is the key if success is to be achieved.