Humans of Code Week – Antonella Caroni, Leading Teacher Italy
Publication date: July 13, 2022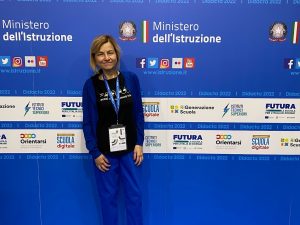 By Antonella Caroni, Leading Teacher Italy
What advice would you give to someone who wants to learn / teach coding?
Those who have never taught coding can start from the EU Code Week website and get inspiration based on their resources. After this you can search the internet for the activities that are done in their home country.
For the actual lessons, it is important to start from the basics and then move on to more challenging tasks. Unplugged tools can also have a lot of value to students and bring them closer to programming. Also, it is important that you as a teacher experiment first with the tools. Useful tools can be found on Code.org Google applications like CSFirst/Scratch and activities without the use of devices such as Cody Roby and Lego Six Bricks. From all these options you can then choose the most suitable activities.
How do you imagine the future of Code Week to look like?
I think that Code Week and its activities will get increasingly entangled with issues of global interest: sustainability, citizenship, human rights, the gender gap and many more. By organizing activities and collaborating in different manners, Code Week can help improve the world. Programming for a better future.
What are the top three reasons why everyone / kids should learn how to code?
Coding is used to interpret reality. It allows you to produce solutions for many issues and problems, it stimulates logical reasoning, it helps to eliminate differences, it is inclusive and suitable for everyone, it stimulates active participation and collaboration.