Humans of Code Week – Artur Coelho, Leading Teacher Portugal
Publication date: July 6, 2022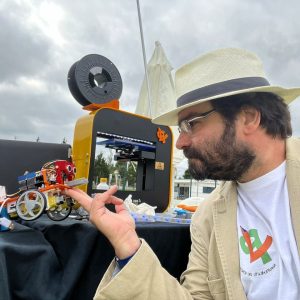 By Artur Coelho, Leading Teacher Portugal
What sparked your interest in coding / Code Week?
Feeling the importance of fostering deep understanding of technology in my pupils sparked my interest in coding. The Code Week community fuelled this interest, with a rich engagement, the cross-border sharing of ideas, projects and teaching experiences.
What are the top three reasons why everyone / kids should learn how to code?
Why should kids learn how to code? Creativity, creativity, and creativity. Coding is far more than a way of thinking and a utilitarian tool. It can also be a creative and have a artistic spark. Why not learn to code your own aesthetic and artistic projects?
What advice related to coding that you received inspired you most, and why?
The advice that inspired me most came from José Martinez, an artist, coder and teacher from Spain, his idea is that "useless coding" is very important, because coding can be an art creating tool. Also, Elina Ingelande and her Creative coding in JavaScript workshop during the 2021 Codeweek Teach Day inspired me a lot. The topic of this workshop was to teach coding as way of personal creative and artistic expression.