Humans of Code Week – Kristina Slišurić, Leading teacher Croatia
Publication date: July 22, 2022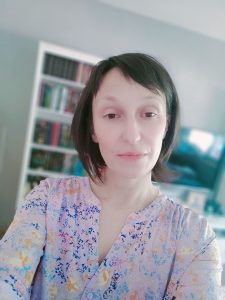 By Kristina Slišurić, Leading teacher Croatia
What are the top three reasons why everyone / kids should learn how to code?
Early learning of programming is extremely important for creating the foundations of problem solving from everyday life that require logical thinking, precision, a systematic approach and analysis. Practicing computer thinking from an early age and encouraging students to be creative, prepares students for the entire programming process that includes coming up with an idea, designing, programming, testing and debugging. In addition, students boost their confidence and collaborate in an online environment.
In order to prepare pupils for the technologically advanced modern world, it is very important to introduce them to coding. This, in turn, helps children to become open-minded, curious and always on the path of innovation by:
– exposing them to new technologies – programming, robotics, Internet of things (IoT);
– deploying new technologies through the development of artificial intelligence, opening up unlimited possibilities for research to all who are curious and eager for new knowledge and learning;
– acquiring the skills of thinking outside the box, logical reasoning, problem solving, patience and perseverance.
 How can interested people contribute to Code Week?
All educators can gather interested individuals of any age in their communities, schools, libraries, associations and organise an activity. Activities that include any form of coding, programming, logical thinking can be registered on the Code Week event map. There are numerous examples, ready-made teaching scenarios, short courses and various other activities that can serve as inspiration and resources for educators to design their own event.
  Which project/activity related to Code Week are you most proud of, and why?
I am most proud of the activity I did with my 5th and 6th graders (Ages 10-12), because it was a workshop that introduced children to the world of artificial intelligence.
The AI workshop "How old do I look?" introduced children to the basic concepts of intelligence, artificial intelligence and its current and potential ways of application. In addition to seeing examples of where artificial intelligence is used today, students created a programme in the online version of mBlock. This programme analysed their faces, by the use of the camera of their laptops/tablets, and returned an assessment of their age, gender, hair colour and whether the person wears glasses and if so what kind of glasses (sunglasses, swimming goggles, ordinary glasses). In addition to teaching students how to use artificial intelligence capabilities to recognise faces and facial features, they also learned about basic algorithmic structures: sequence, repetition and branching.