The 9th edition of the EU Code Week sets new record: More than 76.000 activities and counting
Publication date: November 18, 2021
The hot phase of EU Code Week took place 9 – 24 of October and ended with new record numbers. More than 76.000 activities have been organised allowing participants to discover robotics, AI, game and app design in 79 countries across the globe. 
This year EU Code Week rolled-out the biggest variety of training courses, resources, including fresh activity Challenges, materials and engagement opportunities in its history.  For example, in the Code Week 4 All Challenge activity organisers can invite others to organise activities creating a network of likeminded coding enthusiasts and gain a Certificate of Excellence.
So farmore than 76.000 coding activities have been added to the map, breaking last year's record of 73.000 events. The number will keep rising, since activities can be organised until the end of 2021. Add you coding activity here.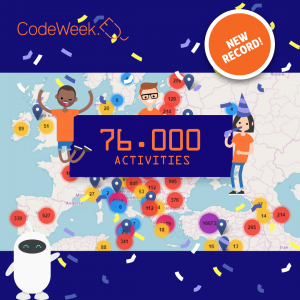 Wrap-up event highlights best practices and hackathon winners
At the Code Week wrap-up event on 25 October, Adil Tugyan, Code Week ambassador from Turkey, Bernadette Zerafa Malta, Ramon Moorlag, the Netherlands and Grzegorz Zajaczkowski, Poland, together with leading teachers Sandrine Khorn from Monaco and Franka van Deursen from the Netherlands highlighted best moments, good practices, impressions and experiences.
The winners of the EU Code Week 2021 Hackathon, Strassium, joined from Slovenia to deliver a clear message: "Coding is very creative, and it would be good for kids to start early because it brings a lot of positive things."
Strassium had won the EU Code Week Hackathon final competing against the upper secondary school pupils from Ireland, Greece, Italy, Latvia and Romania on 14 October 2021. Each team developed outstanding solutions to address everyday-problems and improve the quality of life in their communities: Techgate from Greece introduced a booking system for restaurants, shops, or pharmacies; The Chain-gang, an all-girls team from Ireland, developed an app to improve communication between community groups; Multiskills from Italy presented an online marketplace for local products and producers; The Codebreakers from Latvia pitched the creation of a platform for young jobseekers; Cybermoon from Romania told the story behind their solution to fight online fake news, and finally Strassium from Slovenia presented their solution to reduce food waste, which involved consumers, shops and other stakeholders.
The wrap-up event was live streamed and is available to watch on the EU Code Week Facebook page and YouTube channel.
About EU Code Week
EU Code Week, is a grass-roots initiative supported by the European Commission, which aims to bring coding and digital literacy to everyone in a fun and engaging way with activities organised around the world by teachers and coding enthusiasts. It contributes to the EU's Digital decade targets.